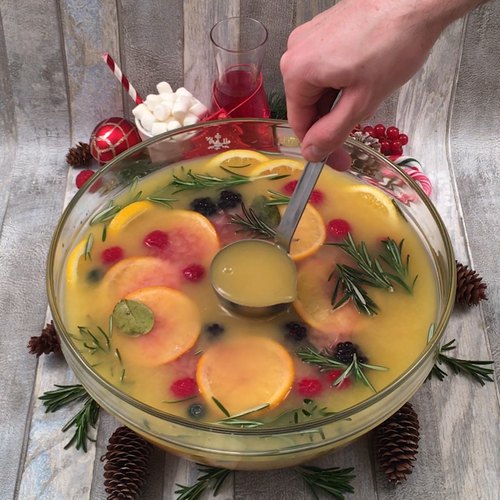 Recipe
Very Merry Cocktails
Naughty is the new nice! 🎄🍸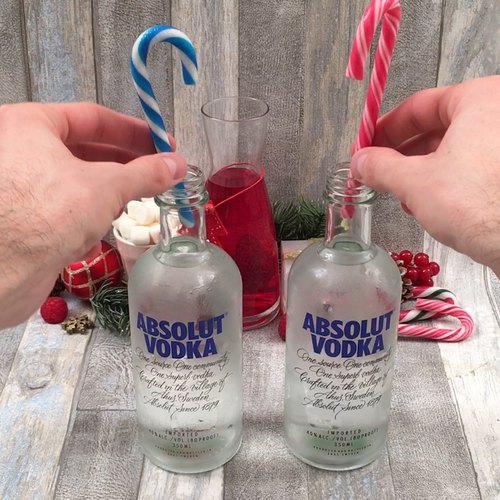 Boozy Snowman: Fill 3 round bowls with crushed ice and add the mini liquor bottles. Stack the bowls and add a hat and a scarf to the top one. Enjoy!

Fancy Punch: Line the bottom of a bundt pan with orange slices. Add mixed berries and rosemary, and pour in grenadine. Put the bundt pan in the freezer. Pour orange juice and vodka into a large bowl. Garnish with more orange slices, berries, and rosemary. Once frozen, unmold the grenadine ice cube from the bundt and add it to the bowl of orange juice.

Jazzy G&T: Fill the molds of an empty advent calendar tray with mint and grenadine. Freeze for 1 hour. Once frozen, add them to a classic gin & tonic and enjoy!

Cute Cosmo: Pour cranberry juice and prosecco into a cocktail glass, and wrap some cotton candy around the stem. Garnish with a marshmallow reindeer made with rosemary, peppercorns, and M&Ms. Use a balloon as a makeshift cocktail shaker and enjoy!

Snowy Champagne Tower: Use cotton candy to create snowmen and decorate with melted milk chocolate. Place the snowmen in champagne glasses and stack them in a pyramid. Pour prosecco into the top glass so that it overflows and fills the other glasses. Watch the snowmen melt and enjoy!

Sipping Santa: Fill the base of a glass with lemon sorbet. Create a strawberry santa with whipped cream and melted milk chocolate. Decorate the scene with some rosemary and a marshmallow snowman with pretzel arms. Add vodka, garnish with shredded coconut, and enjoy!

North Pole Hot Cocoa: Open santa chocolates and fill one half with Baileys. Place the other half on a hot plate to melt the edge and seal the Santa closed again. Place the Santa inside a glass and pour hot chocolate over it to melt the Santa. Add mini-marshmallows and chocolate sprinkles and enjoy!

Candy Cane Vodka: Add candy canes to bottles of vodka. Dip the rim of cocktail glasses in frosting and crushed candy cane. Pour the candy cane vodka and milk into the glasses and enjoy!
It's ready!
SIGN UP
FOR FREE
TO SEE THE RECIPE
Discover the Chefclub cookbooks
Want to snack during happy hour?
In addition to cocktails, we have all sorts of appetizers perfect for any get-together. Chefclub has assembled a practical book showcasing our best recipes to share with your guests.
DISCOVER THE BOOK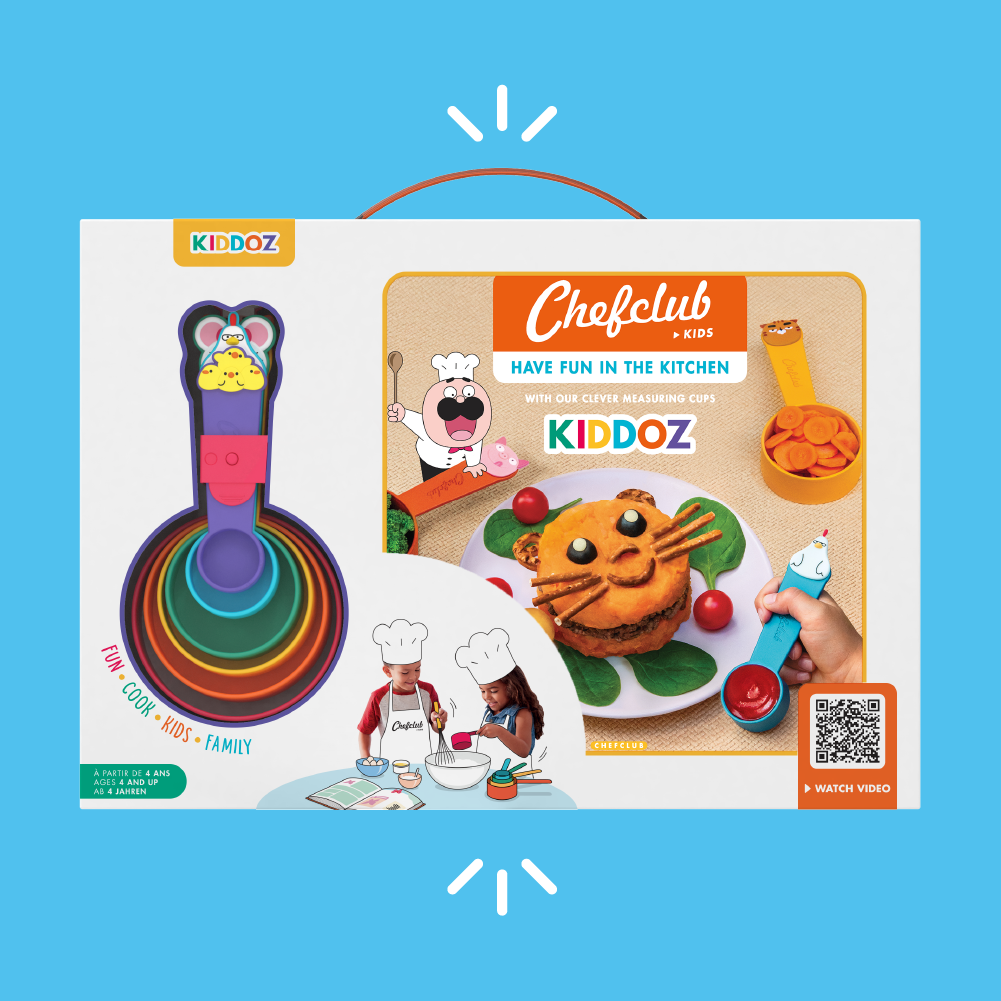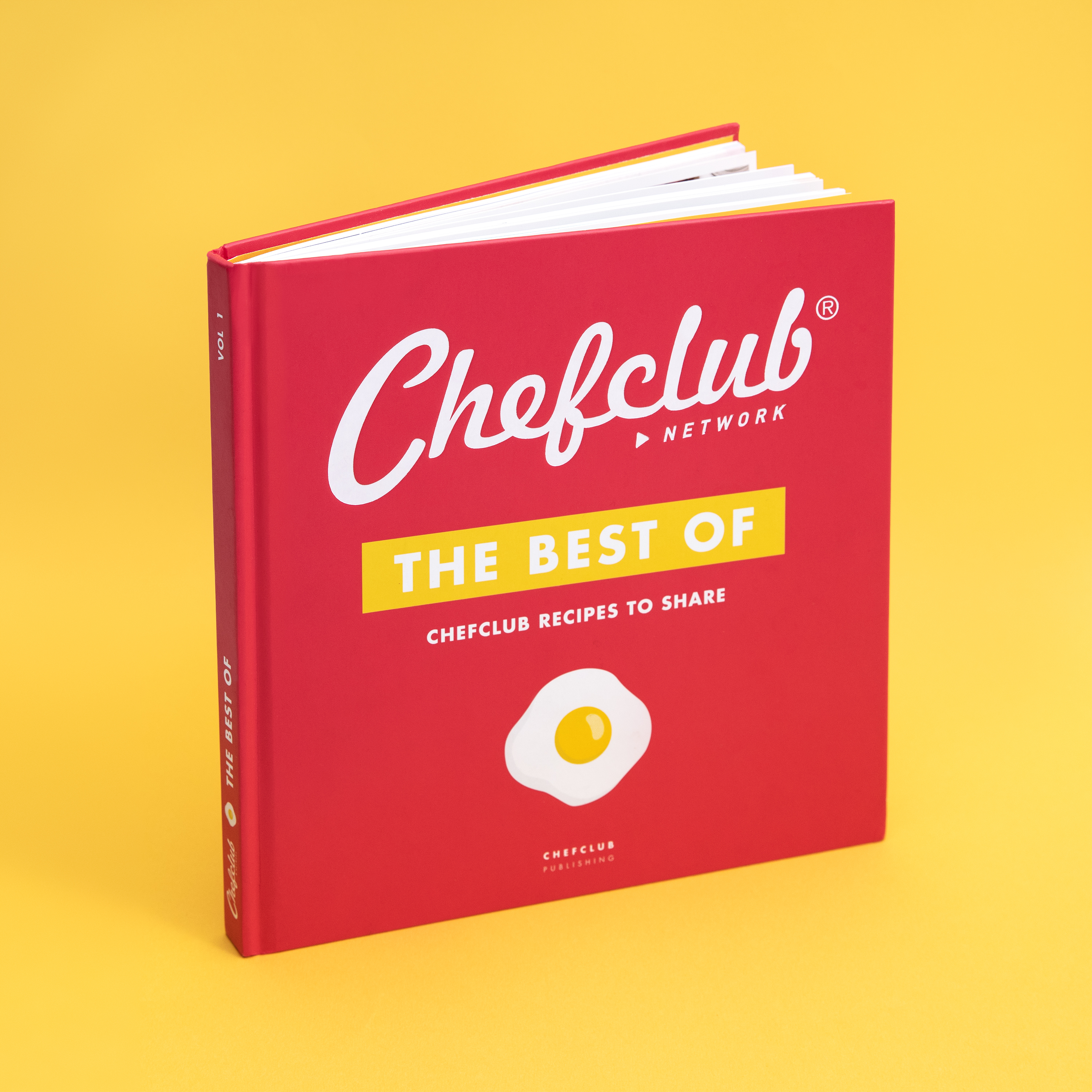 The best of - 45 recipes to share
Chefclub desires to transform the kitchen into a space of sharing and fun. The videos, and now this first book are there to guide, inspire, amuse but mostly share. Share with famil...
ARE YOU OVER 21?
You must be of legal age to consume alcohol in your country of residence to access this site.
Alcohol abuse is dangerous for your health, drink in moderation.