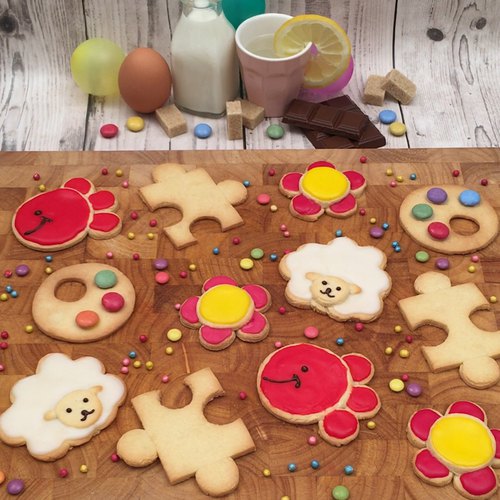 Recipe
Colorful Shortbread Cookies
Decorate them however you like!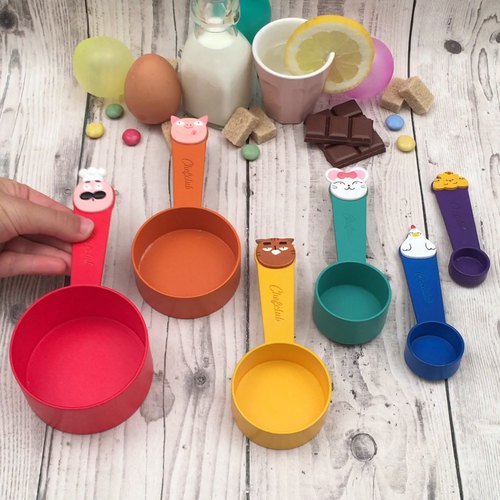 Mix 1 chef of powdered sugar with the egg, a pinch of salt, the flour (3 pigs), and the butter (1 cat). Knead and roll the dough, and spread it into a large rectangle. If sticky, add more flour until you achieve a workable consistency.

Use the chick, cat, hen, and a knife to cut shapes into the dough as shown on the video. Assemble the shapes to make flowers, puzzle pieces, fish, sheep, and paint pallets. Bake for 20 minutes at 350° F.

Cut the lemons in half and pour the juice of each half into the mixing bowls. Add 1 hen of powdered sugar into each mixing bowl and mix. Then, add a drop of red, pink, or yellow dye into 3 of the bowls. Decorate the shortbreads with the icing, use the white mixture to stick 4 M&Ms on the paint pallets, and make faces on the sheep and fish with melted dark chocolate. Enjoy!
It's ready!
SIGN UP
FOR FREE
TO SEE THE RECIPE
DISCOVER CHEFCLUB KIDS
A new experience made just for kids
Chefclub Kids promotes creativity and autonomy in kids 👨‍🎨
Chefclub Kids makes vegetables the star of the plate 🥕
Chefclub Kids makes it possible to cook and play as a family 💚
ORDER
Recipes that are fun, creative, and healthy
Kids become creators, owners of their recipes
20 easy-to-make illustrated recipes