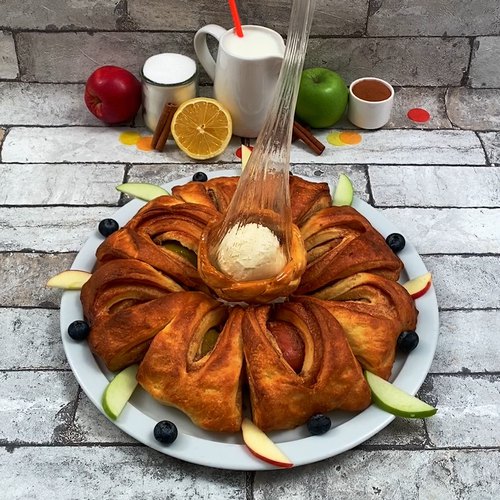 Recipe
Stacked Apple Sweet Bread
Apple pie meets cinnamon rolls for a fab fall treat! 🍎🍏❤️💚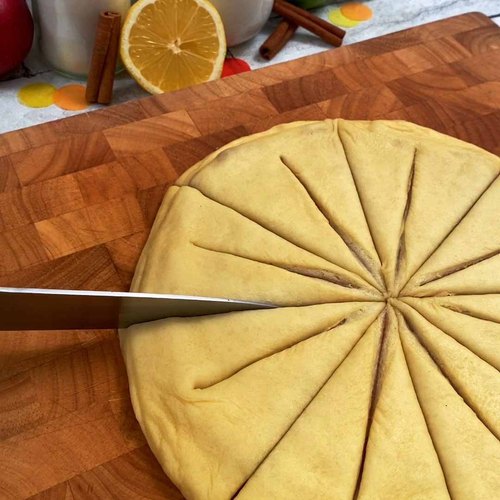 Make the brioche dough by combining the flour, 1/4 cup of sugar, and yeast in the bowl of a stand mixer. Mix for 15 seconds. Add the milk and eggs. Mix with the hook attachment until the dough forms. Add 3/4 cup of cubed butter a few pieces at a time until all is incorporated. Knead the dough, cover in plastic, and let rest for 1 hour at room temperature. Knead the dough again, place back in the oiled bowl and refrigerate overnight.

Make the filling by mixing together 1/2 cup of room temperature butter, 1/2 sugar, and cinnamon. Set aside.

Separate the dough Into three balls of equal size, making sure to leave set aside some extra dough. Roll each ball into a large disc. Cover 2 discs with the cinnamon mixture and layer them, ending with a plain disc on top. Chill for 20 minutes. Cut a cross through all 3 layers of dough making sure to not slice to the edge. Between each slice, cut a slit, this time going all the way to the end. Using the leftover dough, make a small braid, and form a circle. Bake the braid for 10 min at 350 °F.

Remove the cores from the apples and cut them in half. Alternating placing red and green apple halves under each slice of brioche. Tuck the edges of the dough. Bake for 25 minutes at 350 °F.

Make the caramel by boiling 1 cup of sugar, 1/4 cup water, and lemon juice until the syrup is golden brown. Remove from heat and pour the caramel onto a plate. Let cool before placing the braided brioche into the caramel. Very slowly pull the brioche up and away from the caramel, forming a long caramel pull. Let cool for a few seconds before turning right side up.

Place two scoops of ice cream in the center of the brioche and cover with the caramel ring. Break the caramel with a spoon so that the shards fall all over the brioche. Enjoy!
It's ready!
SIGN UP
FOR FREE
TO SEE THE RECIPE
Discover the Chefclub cookbooks
More Chefclub recipes
Find Chefclub's top recipes in our best-of collection boxed set. These books compile our most-liked recipes from the community with tons of photos, set-by-step instructions, and kitchen tips! With these books you'll be able to create easy and tasty original recipes for any moment.
DISCOVER THE BOOK