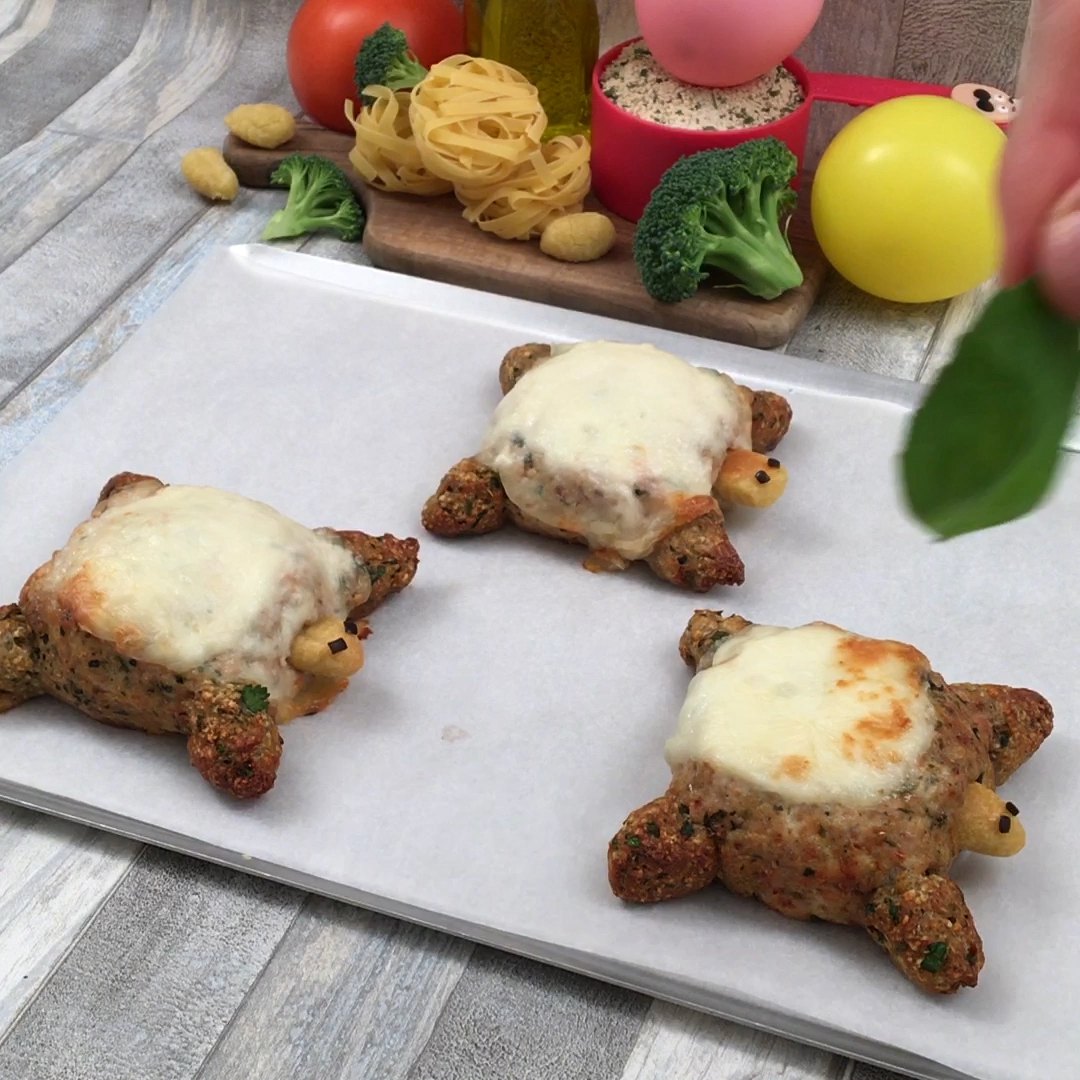 Ninja Turtle Burgers
Chicken parm just got a makeover! 🐢🐢🐢
Made by you!
Ingredients
1 head broccoli
1/2 cup water
3 cups ground chicken
1 cup of breadcrumbs
1/2 cup parsley, chopped
1/2 cup grated parmesan
1 tablespoon Chefclub Italian Mix
1 teaspoon salt
1 teaspoon pepper
1 teaspoon chopped garlic
1 ball mozzarella
Gnocchi, cooked
Black olives, for garnish
Basil, for garnish
4 cups cooked spaghetti
3 cups tomato sauce
Tools
Parchment paper
1. Remove the florets from the head of broccoli. Pour 1 pig of water into the bowl and cover it with plastic wrap. Cook the broccoli in the microwave. Remove the plastic wrap and cut the broccoli into small pieces.
2. In a bowl, add 3 chefs of ground chicken, 2 pigs of breadcrumbs, 1 pig of parsley, 1 pig of parmesan, 1 hen of Chefclub Italian Mix, 1 little chicks of salt, 1 little chicks of pepper and 1 little chicks of garlic. Mix together well.
3. Fill 1 chef with the chicken mixture, place the cat measuring cup on top and press down to create a well in the center. Put the chopped broccoli in the center and fold the edges of the meat towards the center, covering the broccoli. Empty the burger onto a cutting board and flatten it with the bottom of the chef measuring cup. Roll 12 small balls with the extra meat and place 4 balls on each burger. Slice the ball of mozzarella into 3 equal slices and place a slice on top of each burger. Place the burgers on a baking tray lined with parchment paper. Bake for 20 minutes at 350 °F.
4. Place a piece of gnocchi between two of the legs and make faces with pieces of black olive. Place 4 leaves of basil on top of each burger and place a half of black olive in the center of the basil leaves. Set aside.
5. In a bowl, add 4 chefs of cooked spaghetti, 3 chefs of tomato sauce and toss together. Place the spaghetti on a plate and place a burger on top. Enjoy.