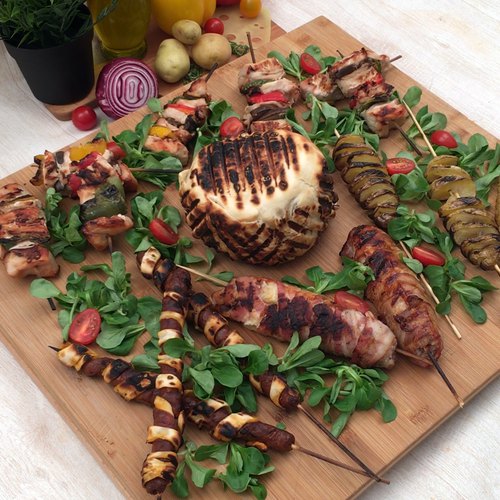 6 BBQ Hacks
Can we grill it? Yes, we can! 🧀💥🤪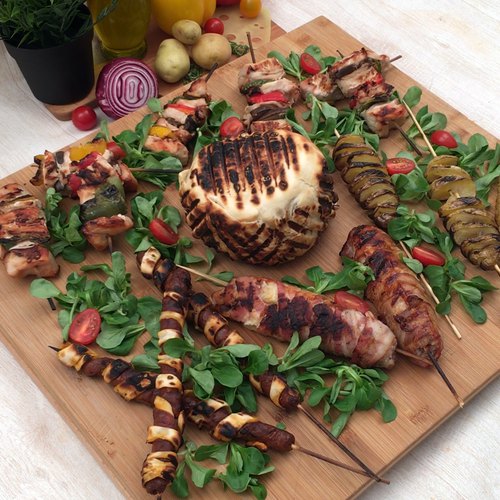 ---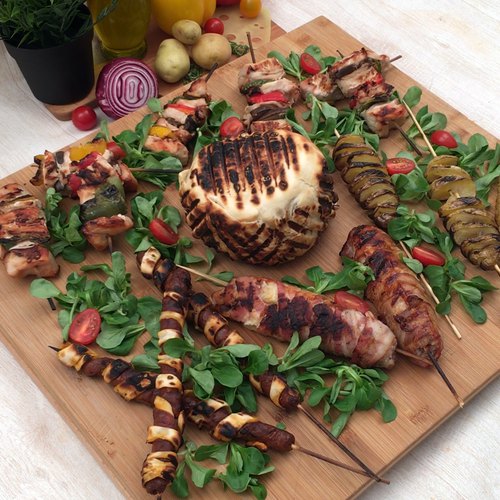 ---
Total time: 1 hour 30 minutes
Ingredients for 10 people
chicken breasts
bell peppers
eggplants
swiss cheese
mashed potatoes
ground beef
bacon
pizza dough
giant babybel ®
flour
eggs
breadcrumbs
vegetable oil
sausage
potatoes
camembert cheese
puff pastry
---
Tools
Cardboard box
Plastic wrap
Skewers
---
Step 1/6
Cover the inside of a small cardboard box with plastic wrap. In layers, place chicken breasts, pepper slices, and eggplant. In even rows, place skewers in the top and place the whole box in the freezer until hard. When it comes out of the freezer, remove the box and the plastic wrap then cut between the skewers creating kebabs. Grill until cooked through.
Step 2/6
Cut a block of Swiss cheese into sticks and then stick each with a skewer. Cover half with mashed potatoes and the other half with ground beef. Roll in bacon and then grill on the BBQ.
Step 3/6
Stick a skewer into your sausages, lengthwise, then use a knife to cut the sausages in a spiral shape around the skewer. Pull apart the sausage (it should look like a curly-q) and wrap the empty space with slices of pizza dough. Cook on the grill.
Step 4/6
Bread a big Babybel ® cheese, or other round melting cheese of your choice, by covering it in flour, then beaten eggs, then breadcrumbs. Fry the cheese. Place 6 skewers around the outside of the cheese and place sausages all around the exterior of the cheese creating a round. Cook on the grill and then dip into the cheese.
Step 5/6
Place a skewer into potatoes then use a knife to cut in a circular motion around the skewer. Pull apart to create a curly fry and then grill.
Step 6/6
Take the tops and bottoms off of 4 camembert cheese, then stack them. Ensuring the bottom cheese still has it's skin. Cover the cheese tower in puff pastry dough, ensuring it's well sealed. Cook on the BBQ. When you remove from the grill, cut off the top of the tower, revealing the melty cheese. Dip all the different skewers and kebabs that you've made in the cheese.
Similar recipes from Chefclub
-
Our other recipes