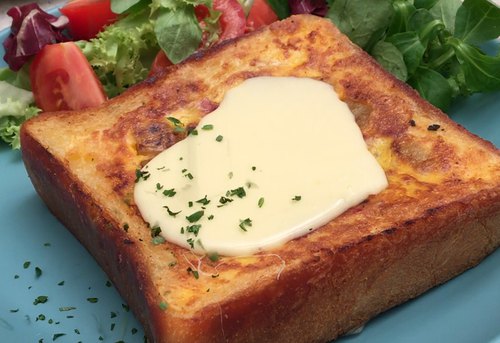 Recipe
Omelette Grilled Cheese!
The best cheese in the world for grilled cheese is raclette. Period.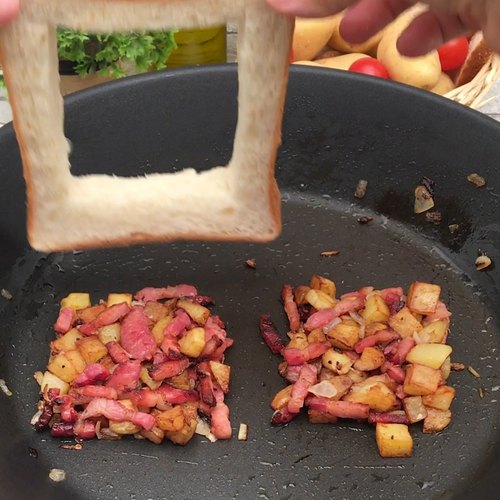 Cut the bread into 4 thick slices, then cut the center out of each slice, keeping the crust whole. Set aside the interior. Dice the potatoes and sauté them in a bit of oil with the bacon and the minced onion.

Once the potatoes are golden, form 4 squares in the pan with the mixture, then place a crust of bread around each square. Sprinkle chopped parsley, then pour 1 beaten egg into the center of each bread crust.

Cook for 3 minutes, then add 3 slices of raclette cheese to each bread. Place the interior of the bread on top of the cheese, then flip carefully using a spatula. Cook for 2 to 3 additional minutes. Melt the rest of the cheese separately, pour it over the toasts, then enjoy hot.
It's ready!
SIGN UP
FOR FREE
TO SEE THE RECIPE
Discover the Chefclub cookbooks
More everyday recipes
The Everyday Boxed Set contains: Under 10 Minutes, the perfect recipes to make when you don't have time; How to Cook Leftovers, make use of what you have on hand and save money in the meantime; Family Meals, the recipes you'll turn to when you have surprise guests.
DISCOVER THE BOOK