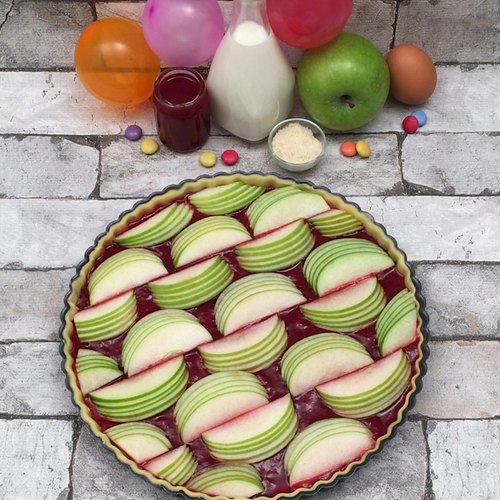 Recipe
Apple Raspberry Pie
A beloved classic, perfect for any special occasion! 😍🍎🍏🍰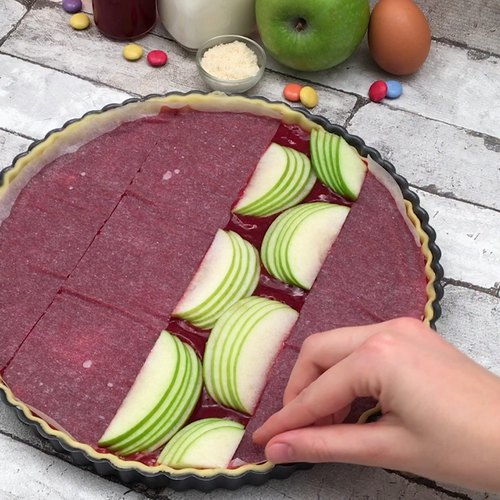 Lay the pie dough in the pie pan. Mix the egg, sugar, butter, almond powder, and milk and spread this mixture over the pie crust. Cover with the raspberry sauce.

Cut out a parchment paper circle the size of the pie dish and cut it into 4 strips of equal width. Place the strips on the pie.

Cut the apples in half, remove the core and cut each half into thin slices. Form semi-circles of 5 offset slices.

Remove one of the strips of parchment parchment, then place apple semicircles on either side of the removed strip, alternating sides and placing the rounded parts back to back. Repeat under each strip of parchment. Bake for 20 minutes at 350 °F, slice, and enjoy!
It's ready!
SIGN UP
FOR FREE
TO SEE THE RECIPE
Discover the Chefclub cookbooks
More everyday recipes
The Everyday Boxed Set contains: Under 10 Minutes, the perfect recipes to make when you don't have time; How to Cook Leftovers, make use of what you have on hand and save money in the meantime; Family Meals, the recipes you'll turn to when you have surprise guests.
DISCOVER THE BOOK