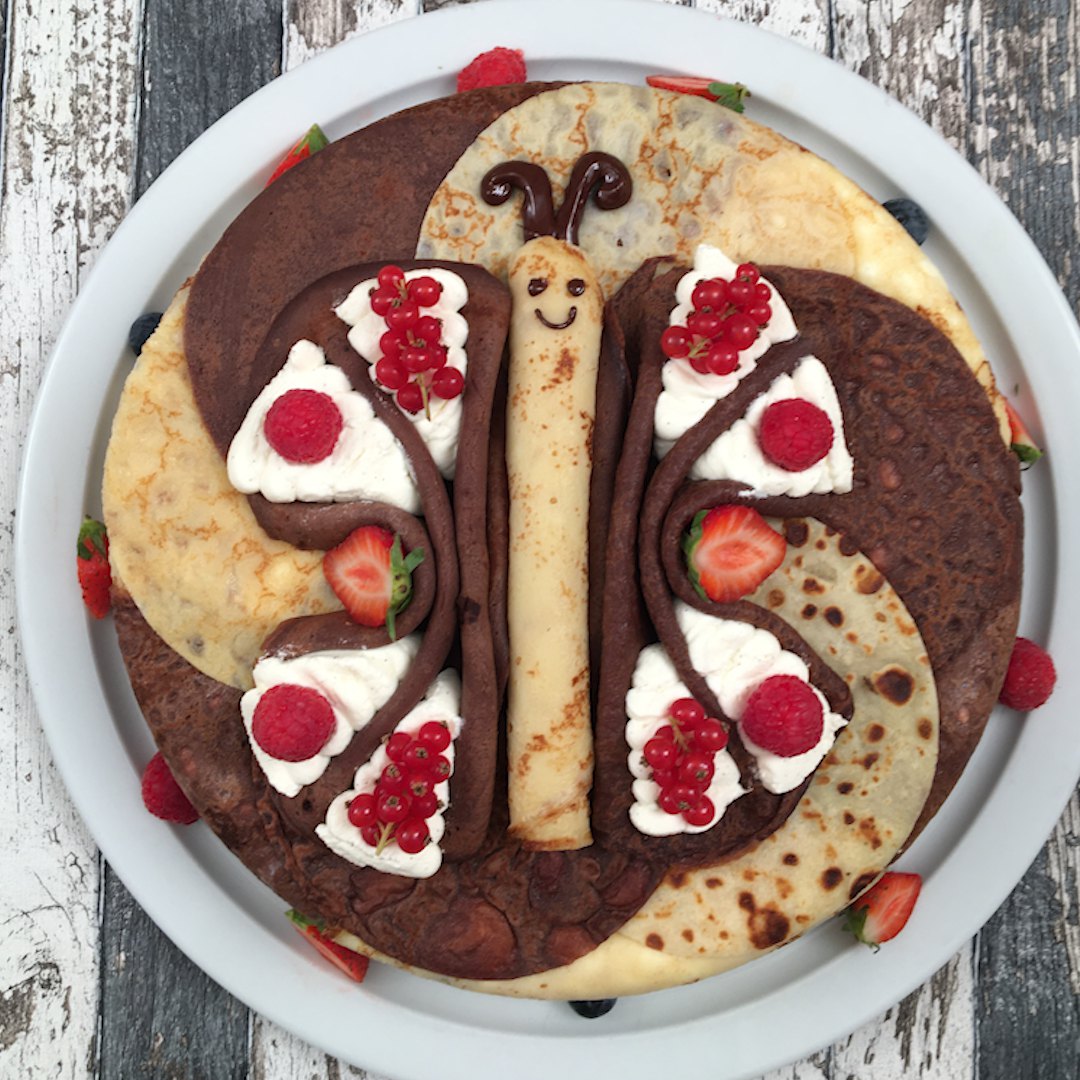 Butterfly Crêpe Cake
With layers as delicate as a butterfly's wings!
Total time: 60 minutes
Ingredients for 8 people
450 g of flour
4 tbsp of caster sugar
8 eggs
80 g of butter, melted
10 cl of milk
50 g of cocoa powder
400 g of mascarpone cheese
2 vanilla pods
120 g of icing sugar
10 cl of whipping cream
1 banana
Berries
Black chocolate
---
Kitchenware
1 Chefclub by Tefal® skillet
1 Chefclub by Tefal® cake tin
1 electric mixer
---
Step 1/4
Mix together the flour, eggs, sugar, butter and the milk mixing until crêpe batter forms (1). Cook 7 crêpes with the skillet. Add the cocoa powder to the remaining batter then cook 27 chocolate crêpes (2-3).
Step 2/4
Line the bottom of the cake pan with 3 plain crêpes and 3 chocolate crêpes, alternating them. Cover the edges by alternating 3 plain crêpes and 3 chocolate crêpes allowing them to hang over the side of the tin.
Step 3/4
Whip together the mascarpone, vanilla, icing sugar, and whipping cream until a whipped cream forms. Spread the whipped cream on 14 crêpes and roll them up. Spread whipped cream on the crêpes already in the pan (4). Arrange the rolled-up crêpes on top of this. Add another layer of whipped cream on top (5), then cover with slices of banana. Cover with 4 overlapping chocolate crêpes followed by another layer of whipped cream then place 1 chocolate crêpe in the middle. Fold the overhanging crêpes back onto the cake. Turn the cake over to unmould it.
Step 4/4
FOR THE KIDS: IT'S YOUR TURN TO DECORATE THE BUTTERFLY. Roll up the last white crêpe and place it in the centre of the cake (6). Fold the last 2 chocolate crêpes into an accordion and pinch them in the centre to form a wing shape. Place these wings on each side of the rolled crêpe to make a butterfly. Decorate the wings with the remaining whipped cream and berries. Draw a face and butterfly antennae with melted dark chocolate (7-8)!