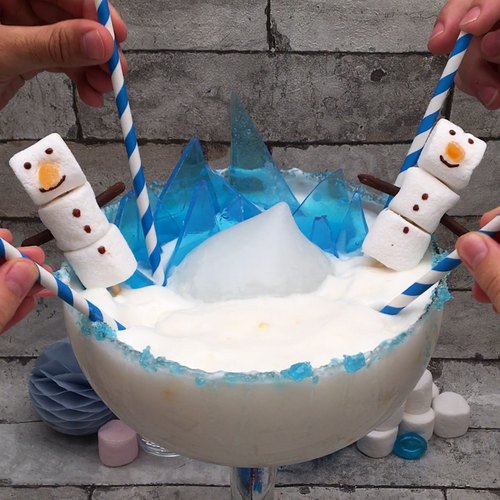 Are you 18 years old or older?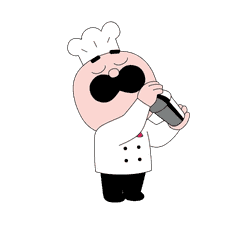 You must have the right to consume alcohol in your country of residence to continue on this site.
Please drink responsibly
Frosty Cocktail
Big summer blowout!!!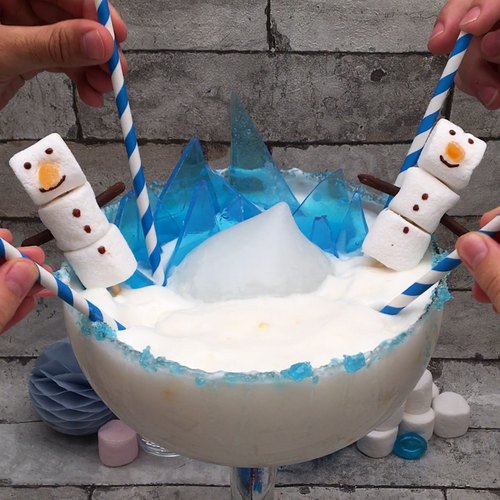 ---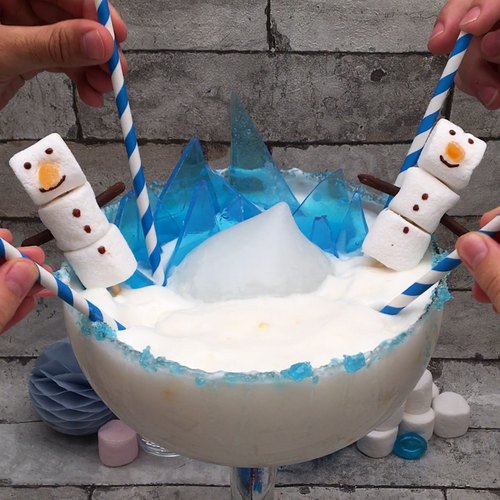 ---
Ingredients for 5 people
15 fl oz of schweppes ® tonic water
2 1/2 cups of white chocolate
5 ice cream cones
1 cup of nib sugar
50 blue mint hard candies
2 pts lemon sorbet
8 1/2 fl oz of gin
simple syrup
---
Tools
Balloon
Rolling pin
Punch bowl
Blender
Ice cream scoop
Straws
Parchment paper
---
Step 1/4
Fill the balloon with Schweppes ® tonic water, tie it off and freeze for at least 2 hours. Melt the white chocolate and pour it over the upside down cones. Sprinkle the cones with nib sugar and chill for 30 minutes.
Step 2/4
Place half of the candies on a baking tray lined with parchment paper and bake for 10 minutes at 350 °F. When they come out of the oven, break the candy sheet with the rolling pin and collect triangular pieces. Crush the rest of the candies and dip the rim of the bowl in simple syrup and then in the candy powder.
Step 3/4
Blend the lemon sorbet with the gin and pour the mixture into the punch bowl. Cut the frozen balloon to obtain the Schweppes ® ice cube and place it in the center of the bowl.
Step 4/4
Decorate with the blue candy triangles. Enjoy in the cones like ice cream by scooping balls with the ice cream scoop, and the rest with straws from the punch bowl.
Similar recipes from Chefclub
-
Our other recipes