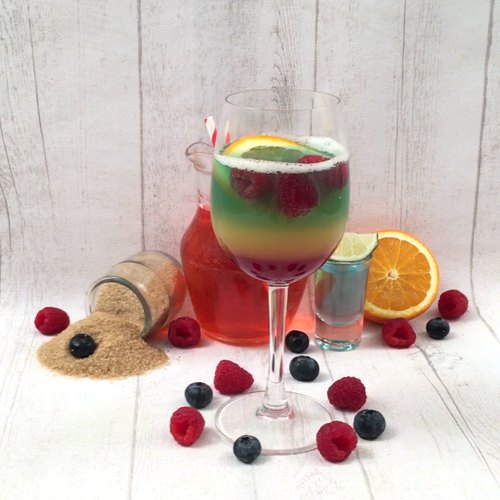 Are you 18 years old or older?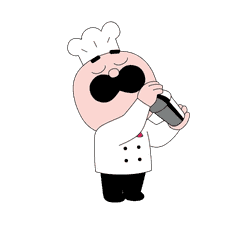 You must have the right to consume alcohol in your country of residence to continue on this site.
Please drink responsibly
A Cocktail for Every Sign
Your drinkable guide to the stars! 😁🍹🔮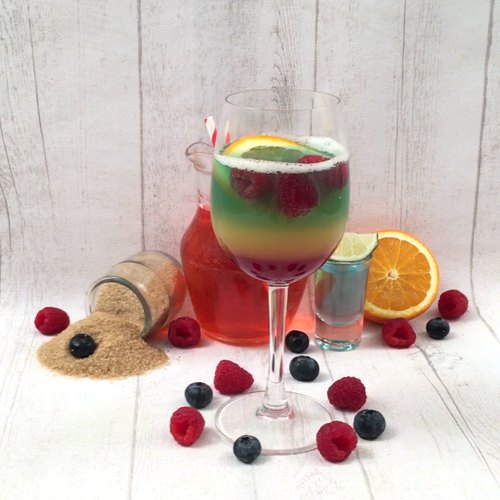 ---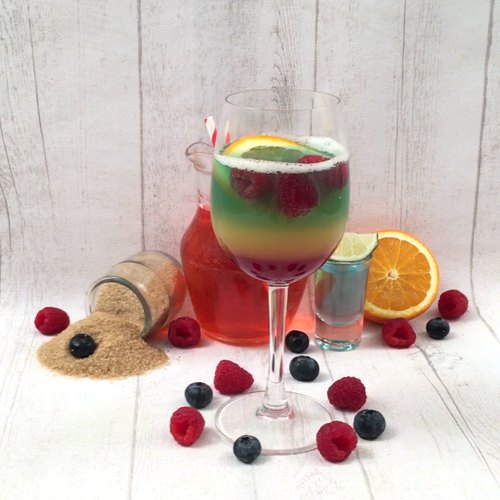 ---
Ingredients for 12 people
mint liquor
sparkling water
herb mix
sugar syrup
bailey's
grenadine syrup
chartreuse
blue curaçao
rum
orange juice
orange
cocoa powder
prosecco
raspberry
lime
butterfly pea tea
mint
kumquat
apple juice
lemon juice
vodka
martini ® rosso
campari ®
gin
---
Tools
Large glasses
Kitchen torch
Shot glasses
Cocktail glasses
Tea towel
Dry ice
Long spoon
Tall glasses
Plates
Champagne flutes
Wine glasses
Pitchers
Champagne glasses
---
Step 1/12
Libra recipe Pour mint liquor and sparkling water into a large glass with ice cubes. Place a herb mix in a bowl and light it on fire with a kitchen torch. Place another glass on top of the smoking herbs to fill it with smoke. Place this glass on top of the glass with the mint liquor and flip it over to make a smoking cocktail.
Step 2/12
Scorpio Recipe: Fill shot glasses almost entirely with sugar syrup. Hold a teaspoon on the top of the glass and pour Bailey's ® over top so that it floats at the top of the glass. Drizzle grenadine through. Float chartreuse on top of the Bailey's ® and light on fire with a kitchen torch.
Step 3/12
Cancer Recipe: Fill 2 cocktail glasses with blue curaçao and sparkling water and add some dry ice. Wipe a damp tea towel with a little dish soap over the glasses so that the smoke swells into a bubble above the glasses. Press the two glasses together so that the bubbles join.
Step 4/12
Virgo Recipe: Bend the bowl of a long spoon to 90° and place it in a tall glass with the owl against the bottom. Pour a layer of sugar syrup followed by a layer of grenadine, a layer of blue curaçao, a layer of mint liquor, and a layer of chartreuse, raising the spoon as you go. ignite with a blowtorch and serve with a slice of orange.
Step 5/12
Sagittarius Recipe: Place a champagne flute on a plate. Fill the glass with chartreuse, light it with a blowtorch, and dust it with cocoa powder. Place an ice cube on top of the glass and let it melt.
Step 6/12
Aquarius Recipe: Pour rum and orange juice into a large glass. Place another glass upside down inside it to make a shaker. Shake and pour into a wine glass. Slowly pour grenadine down the side of the glass so that it settles at the bottom. Mix prosecco and blue curaçao in a small pitcher and pour into the glass. Add a slice of orange and raspberries.
Step 7/12
Gemini Recipe: Add some dry ice to a fish bowl and place a rose upside down in it. Pour grenadine and prosecco into a cocktail glass. Add berries and smash the frozen rose over top.
Step 8/12
Aries Recipe: Place a shot glass on an upside down glass. Fill with blue curaçao and cover with a champagne glass. Turn the whole thing so that the shot glass is upside down in the champagne glass. Fill the champagne glass with prosecco and remove the shot glass. Add crushed ice and lime.
Step 9/12
Capricorn Recipe: Steep butterfly pea tea in a pitcher with hot water. Fill large wine glasses with crushed ice, rum and mint leaves. Then strain the brewed tea into the glass. Add lemon juice to make it change color.
Step 10/12
Leo recipe: Pour orange juice into a champagne glass. Add slices of kumquat and mint leaves, and a hollowed out half a lime upside down. Fill the lime with vodka and light on fire with a blowtorch.
Step 11/12
Taurus Recipe: Pour apple juice, rum and grenadine into a pitcher and add edible glitter. Mix well and pour into tall glasses with fruit in them.
Step 12/12
Pisces Recipe: Place raspberries and mint in the bottom of a large glass. Add brown sugar and muddle. Add ice cubes and pour in Martini ® Rosso, gin and Campari ®. Serve with a slice of orange and light it on fire with a blowtorch.
Similar recipes from Chefclub
-
Our other recipes