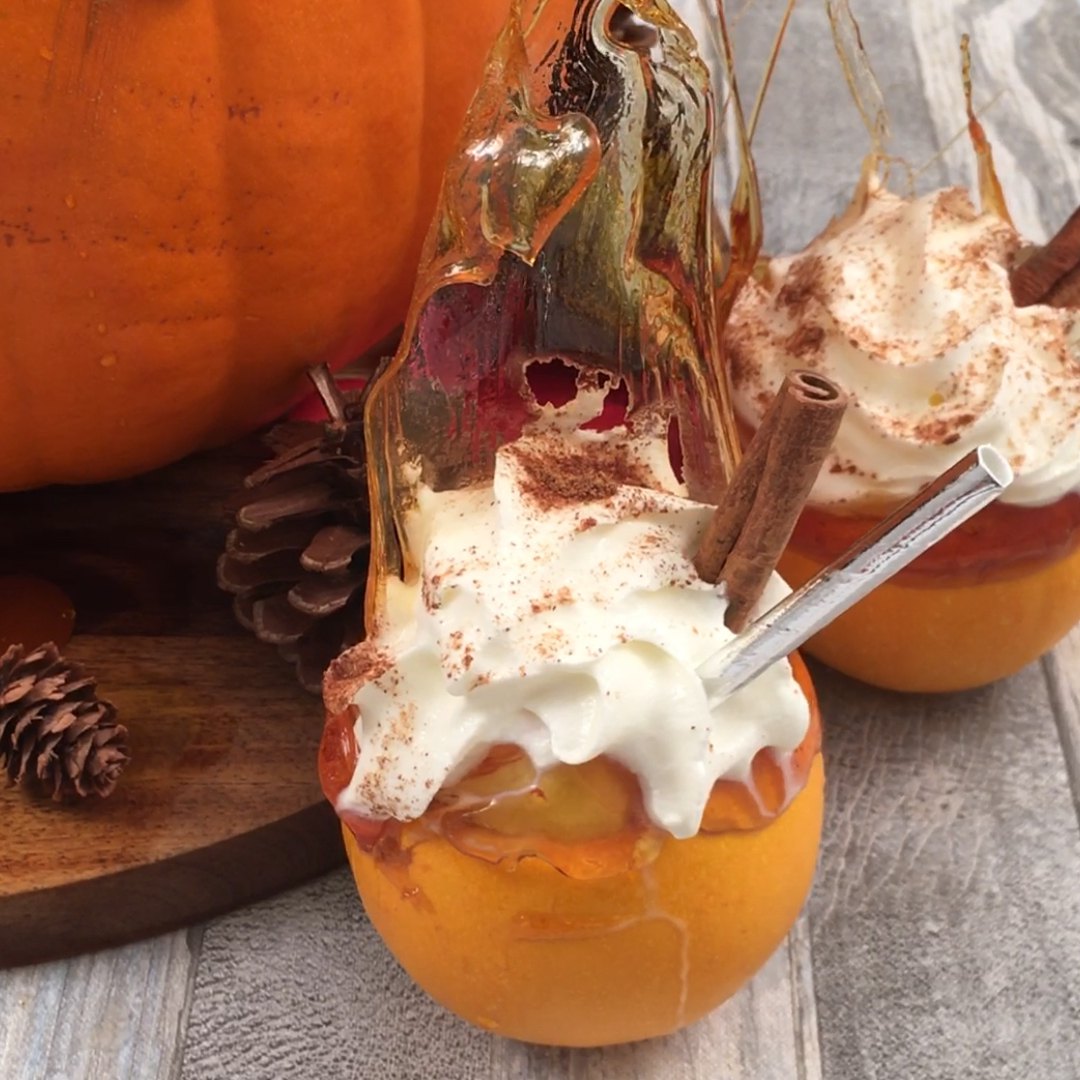 Are you 18 years old or older?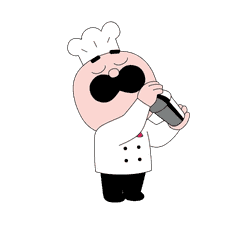 You must have the right to consume alcohol in your country of residence to continue on this site.
Please drink responsibly
Pumpkin Keg
Fall called, and it's cocktail hour all month! 🎃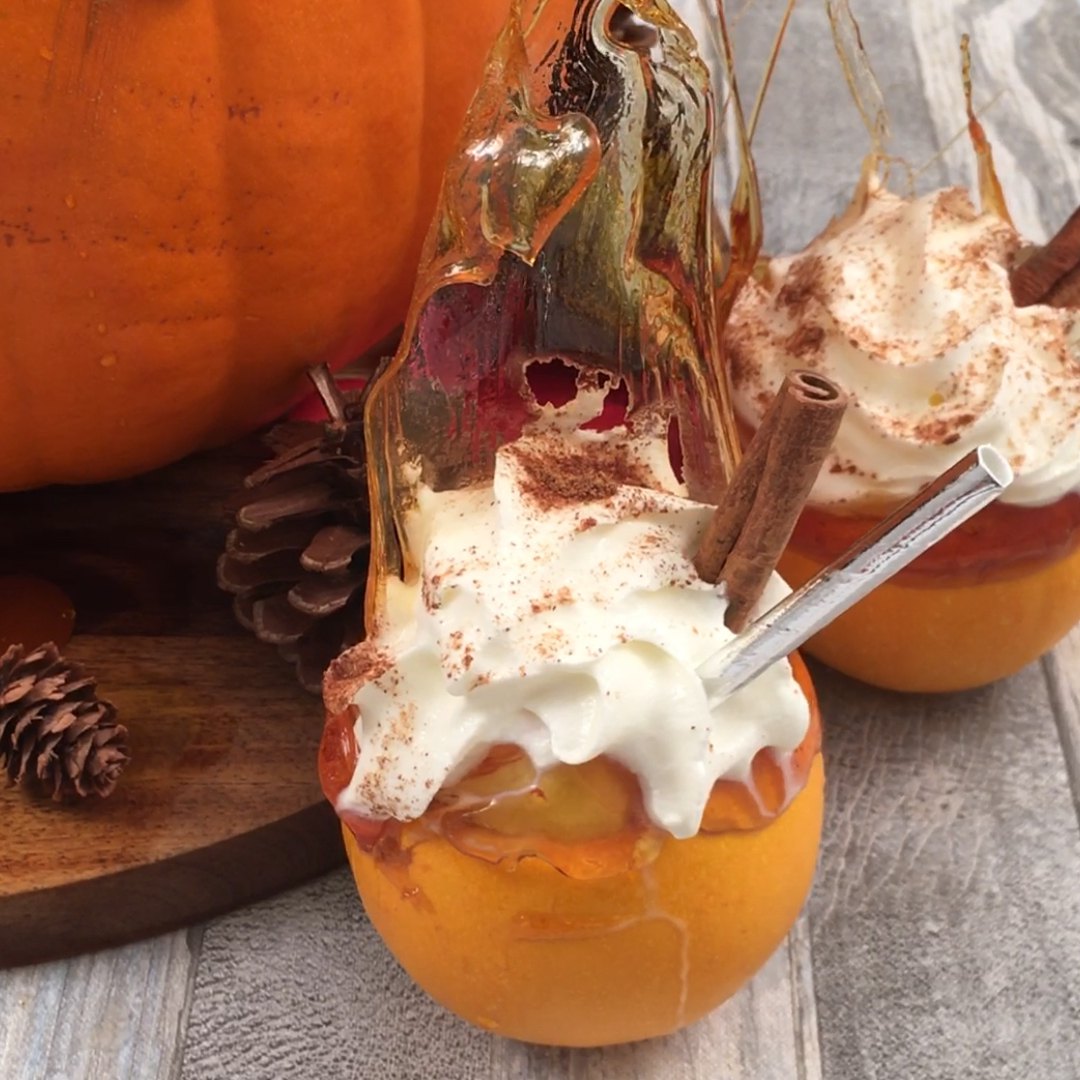 ---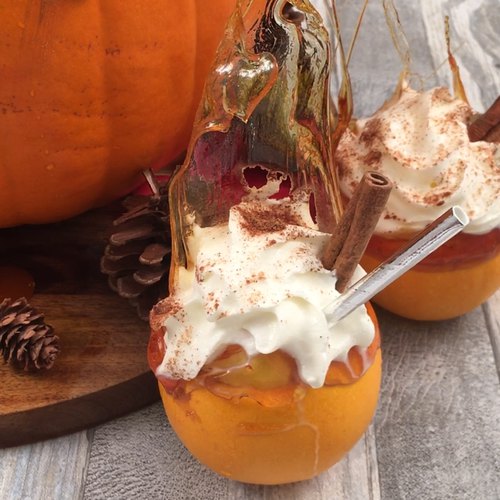 ---
Total time: 60 minutes
Ingredients for 12 people
2 large pumpkins
12 mini-pumpkins
Milk chocolate, melted
1 1/2 cups of sugar
4 cups of vanilla vodka
2 cups of cooked pumpkin
4 cups of cider
8 cups of ginger ale
cinnamon sticks
pumpkin pie spice
---
Tools
Spigot
---
Step 1/5
Clean out the 2 large pumpkins and the mini-pumpkins. Cut off the tops and put them aside. Carve a small hole in one of the large pumpkins and insert the spigot. Cut off the bottom of the other large pumpkin, and use the melted milk chocolate to adhere the bottom edge to the top of the pumpkin with the spigot. Chill for 20 minutes.
Step 2/5
Mix the vodka, cooked pumpkin, cider, and ginger ale. Pour the mixed drink into the pumpkin keg and add ice. Replace the top of the pumpkin to close the keg.
Step 3/5
Mix the sugar with 1/4 cup of boiling water. Stirring, cook on medium-high heat until golden (about 5 minutes). Dip the mini pumpkins in the caramel, place upside down on a plate, and lift, raising the hardened caramel.
Step 4/5
Fill the mini-pumpkins with the cocktail, top with whipped cream and pumpkin pie spice, and garnish with a cinnamon stick. Enjoy!
Step 5/5
Find the second recipe by searching "onion-bomb"
Similar recipes from Chefclub
-
Our other recipes