Recipe
Kiddoz Pastries
French classic made for kids!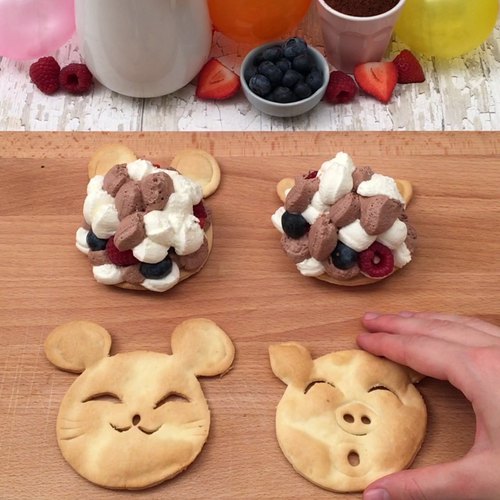 Using the Kiddoz measuring cups, cut out the shape of 4 mice and 4 pigs from the pie dough, following the pattern in the drawing. Draw the details of the faces in 2 mice and 2 pigs using the cups and a straw. Place on a baking sheet lined with parchment paper and bake for 20 minutes at 350 °F.

Whip 3 chefs of cream and 1 mouse of icing sugar with the electric hand mixer. Divide the whipped cream in half and add 2 hens cocoa powder to one, stirring again with the whisk.

Place each whipped cream in a freezer bag and cut one of the bottom corners to make piping bags. Using these bags, pipe dollops of plain and chocolate whipped cream on the heads of the characters whithout faces. Arrange the berries on top and add more dollops of whipped cream on top. Top with the remaining characters and enjoy.
It's ready!
SIGN UP
FOR FREE
TO SEE THE RECIPE
DISCOVER CHEFCLUB KIDS
A new experience made just for kids
Chefclub Kids promotes creativity and autonomy in kids 👨‍🎨
Chefclub Kids makes vegetables the star of the plate 🥕
Chefclub Kids makes it possible to cook and play as a family 💚
ORDER
Recipes that are fun, creative, and healthy
Kids become creators, owners of their recipes
20 easy-to-make illustrated recipes