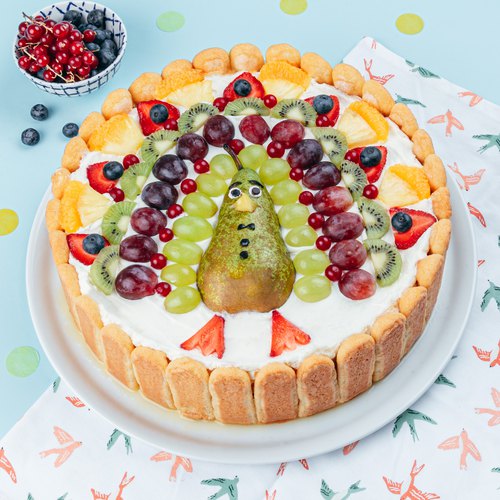 Peacock Dessert
Peacock Dessert! It's fruity, it's fun, it's great to make with kids!🦚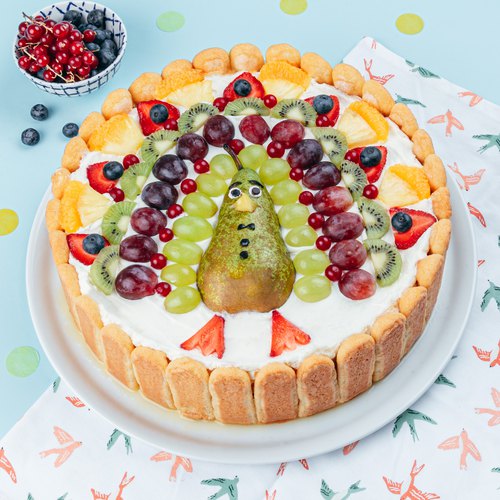 ---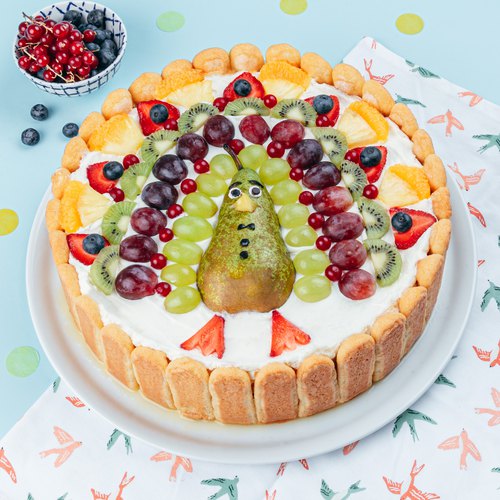 ---
Total time: 40 minutes
Prep time: 20 minutes, Rest time: 20 minutes
Ingredients for 10 people
1 cup of orange juice
48 ladyfingers
1 cup of mascarpone
0.3 cup of sugar
vanilla
1 cup of whipped cream
5 kiwis
1 pineapple
2 tangerines
13 white grapes
20 black grapes
blueberries
currents
1 pear
---
Step 1/3
Dip the ladyfingers in 1 chef of orange juice. Whip 1 chef of mascarpone, 1 cat of sugar, 1 vanilla pod and 2 chefs of whipped cream.
Step 2/3
Arrange the ladyfingers in the pan, upright against the edge and at the bottom. Cover with 1 layer of whipped cream. Decorate the whipped cream with slices of kiwis, pieces of pineapple, 1 tangerine in quarters, blueberries and currants then cover with a new layer of ladyfingers. Add 1 layer of whipped cream and decorate it with sliced strawberries, sliced kiwis, blueberries, currants and 1 grape. Cover with a last layer of whipped cream.
Step 3/3
Place 1 pear half on top to form peacock body. Cut 2 slices of strawberries into a triangle to form bird's feet and place them under the pear. Place 1 triangular piece of pineapple on the pear to make the beak. Create 2 eyes with whipped cream and pieces of blueberry. Form the tail of the peacock with white and black grapes, half-slices of kiwi fruit, blueberries, pieces of pineapple, slices of strawberries, currants, blueberries and wedges of tangerine. Enjoy.