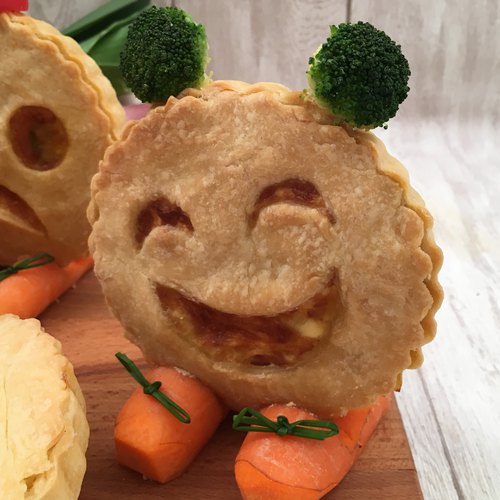 Recipe
Mini-Pie Masquerade
A masquerade ball with excellent taste!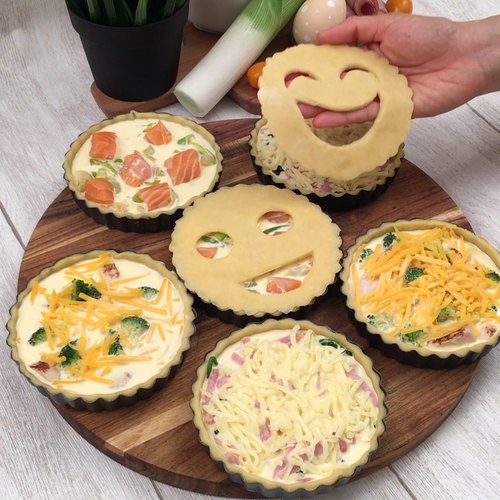 Mix 3 chefs of flour, 3 cats of butter, 1 chick of salt, 2 eggs, 1 pig of water, and place the dough in the fridge for 1 hour. Then roll it into a large rectangle and cut out 12 disks using a mini pie dish. Place 6 of these disks into the pie dishes and poke them with a fork.

Fill 2 pie dishes with the broccoli, diced chicken, and 2 hens of shredded cheddar. Fill 2 other pie dishes with 2 hens of cooked spinach, 2 hens of diced ham, and 2 hens of Swiss cheese. Fill the last 2 dishes with 2 hens of cooked leeks and the diced salmon.

Use the hen and the cat to draw faces in the remaining 6 discs of dough. Mix 3 eggs, 1 cup of whipping cream, and salt and pepper. Use the pig to pour the mixture into each pie dish. Cover each pie with a face disk and bake them for 30 minutes at 350° F. Decorate the pies and enjoy!
It's ready!
SIGN UP
FOR FREE
TO SEE THE RECIPE
DISCOVER CHEFCLUB KIDS
A new experience made just for kids
Chefclub Kids promotes creativity and autonomy in kids 👨‍🎨
Chefclub Kids makes vegetables the star of the plate 🥕
Chefclub Kids makes it possible to cook and play as a family 💚
ORDER
Recipes that are fun, creative, and healthy
Kids become creators, owners of their recipes
20 easy-to-make illustrated recipes