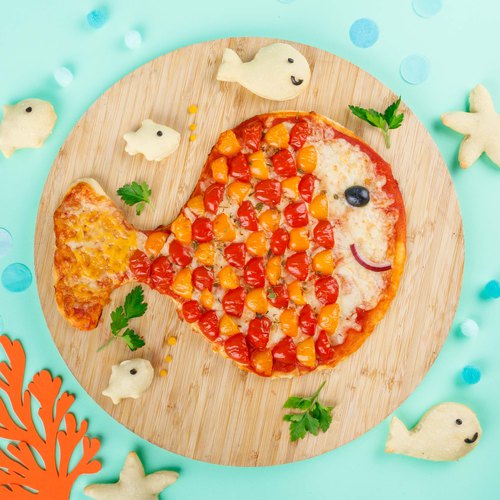 Kids Fintastic Pizza
Time to grab a slice!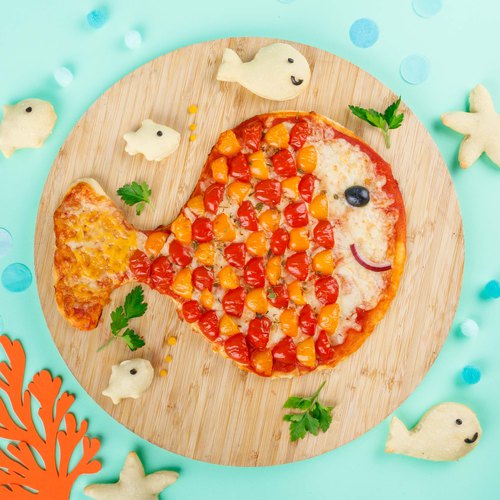 ---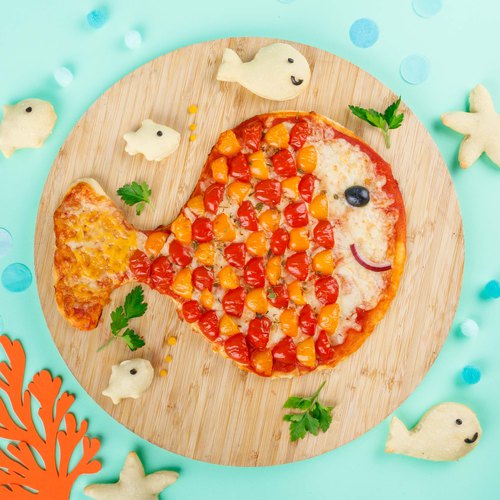 ---
Total time: 2 hours 35 minutes
Prep time: 10 minutes, Cook time: 25 minutes, Rest time: 2 hours
Ingredients for 6 people
3 tsp of yeast
1/4 cup of olive oil
3 3/4 cups of flour
1.4 oz of diced ham
1.3 cups of shredded cheese
1/2 cup of tomato sauce
2 black olives
8 red cherry tomatoes
8 yellow cherry tomatoes
1 red onion
1 slice of cheddar
---
Tools
Rolling pin or metal rod
parchment paper
Chefclub star and rabbit cookie cutters
---
Step 1/4
Mix 1 chef of lukewarm water, 1 mouse of olive oil and 1 chick yeast. Add 3 chefs of flour and 1 chick of salt and knead by hand. Leave to rise for 1 hour under a towel.
Step 2/4
Remove air from the dough and divide it in 2. Roll it out with the rolling pin and add 2 hens of flour on parchment paper. Cut out 4 stars and 4 rabbits with the cookie cutters in one of the doughs. Cut out 1 large fish in the second dough with a knife.
Step 3/4
Place 1 hen of diced ham and 1 hen of grated cheese on 2 stars and 2 rabbits. Slightly wet the outline of the other stars and rabbits then place them on top of the first ones and put them together. Pinch at the base of the rabbit ears to shape a fish. Place on a baking sheet covered with parchment paper. Bake for 10 minutes at 350°F.
Step 4/4
Pour over the large fish 1 pig in tomato sauce and 1 chef of shredded cheese. Cut the cherry tomatoes in 4 and arrange them on the body of the fish (except the head and tail), alternating colors. Place the black olives on the head to make the eyes then bake for 15 minutes at 350°F. Out of the oven, add 1 piece of ham to make the mouth. Enjoy!