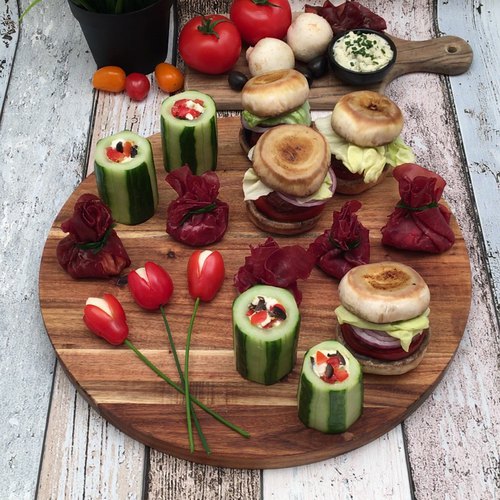 Summertime Snacks
The livin' is easy! Only 200 calories per portion!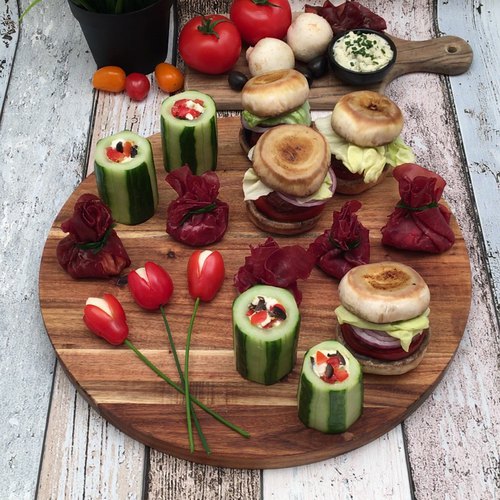 ---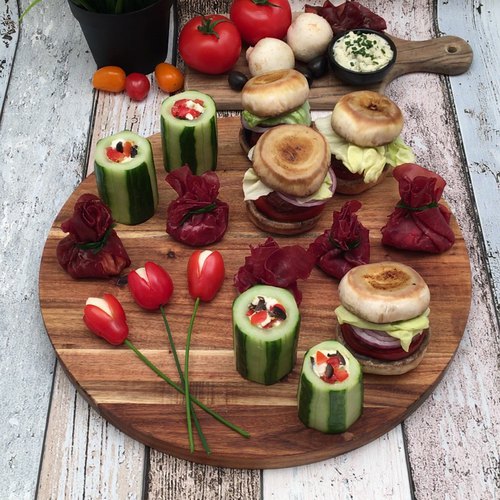 ---
Ingredients for 4 people
1 cucumber
12 cherry tomatoes
1 cup of feta cheese, diced
10 black olives
4 mini burger patties
8 large mushrooms
1 tomatoes
1 red onion
12 chives
6 mini-bocconcini
18 slices of bresaola
1 boursin ® garlic & fine herbs
lettuce
---
Step 1/4
Cut the cucumber in 4, remove the core from the sections and peel strips from them. Mix 6 chopped cherry tomatoes, the diced feta cheese, and the chopped black olives. Stuff the cucumbers with this mixture.
Step 2/4
Grill the mini-burgers and large mushrooms and make burgers with a slice of tomato, a slice of red onion, and a piece of lettuce, using the mushrooms as buns.
Step 3/4
Make 2 cross-shaped cuts on one side of each remaining cherry tomato and plant them on a chive. Place a mini-bocconcini between the petals of the cherry tomatoes.
Step 4/4
Place a tablespoon of Boursin ® in the middle of 3 slices of bresaola, fold them into a pouch and tie closed with chives.
Similar recipes from Chefclub
-
Our other recipes