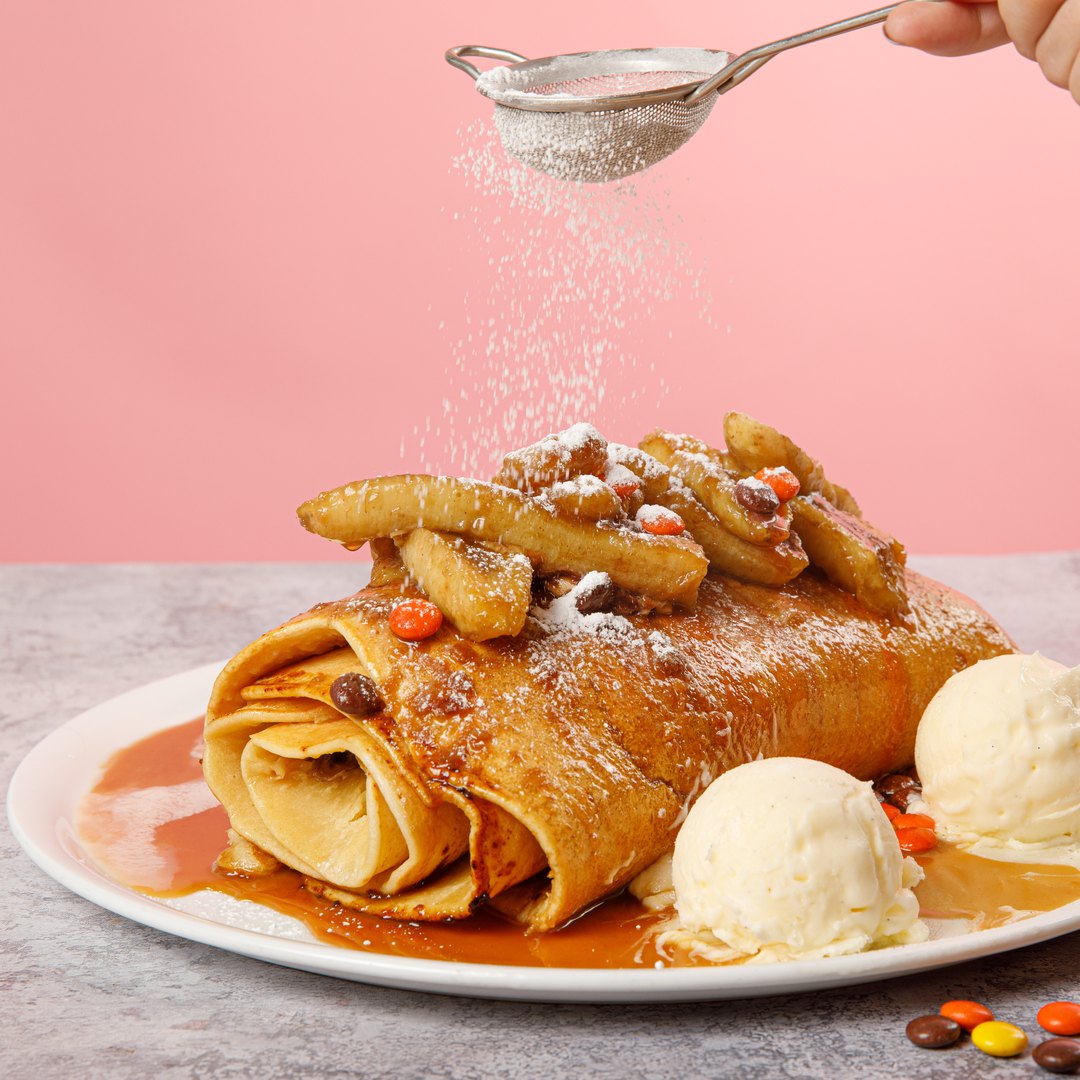 Flippin' Fantastic Banana Foster Pancakes
Fall head over peels for this recipe 😍🥞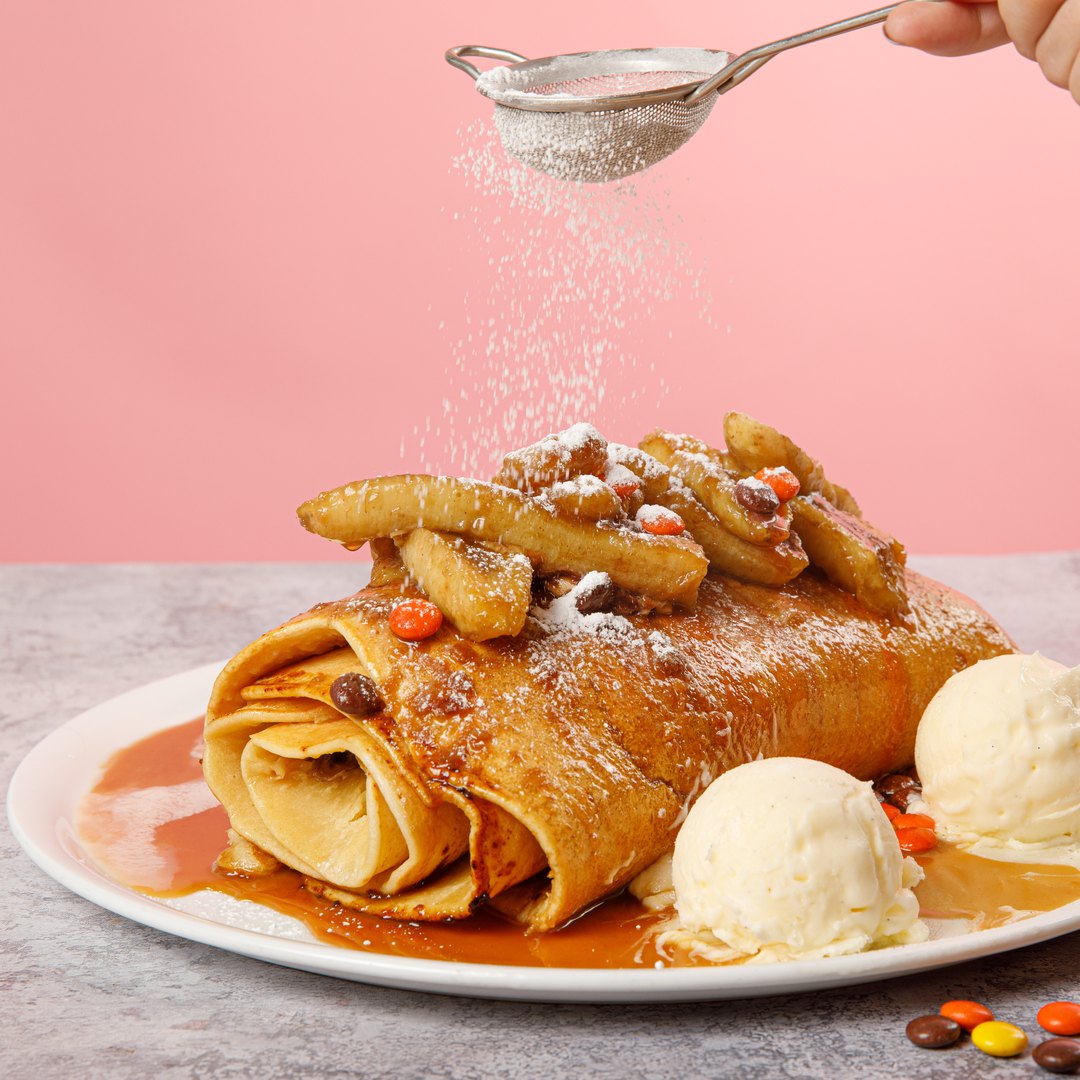 ---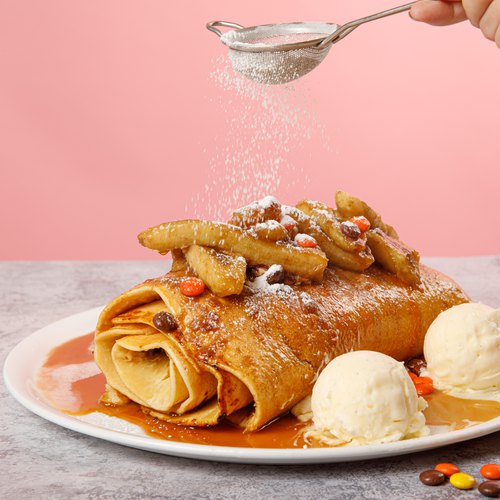 ---
Total time: 30 minutes
Cook time: 30 minutes
Ingredients for 6 people
8 bananas
3 cups of flour
2 tbsp of baking soda
2 tsp of salt
2 tbsp of sugar
2 eggs
2 1/4 cups of milk
12 tbsp of butter
1/2 cup of pecans
1 cup of brown sugar
1/4 cup of banana liquor
1/4 cup of rhum
1 tsp of cinnamon
3 boules of vanilla ice cream
1 tsp of powdered sugar
1 box of heshey's caramel sauce
---
Step 1/3
Make pancake batter by combining flour, baking soda, 6 tbsp of melted butter, salt, sugar, eggs and milk in a large bowl. Place batter in a loaf pan. Set to the side while your plancha warms up. Take 5 bananas and massage gently to create a puree on the inside. Cook time. Pour on first layer of pancake batter. Squirt the banana in a zig-zag pattern and add the pecans along with a drizzle of caramel sauce. Once cooked, begin to roll pancake. Once the pancake is almost entirely rolled, pull to 1 side and then re-add pancake batter. Repeat this process until all of the pancake batter is used up along with the pecans. Reserve on a serving plate.
Step 2/3
Add remaining butter, brown sugar, and cinnamon to your saute pan over medium heat. As it melts, cut 3 bananas in half using a serrated knife. Place in the saute pan and pull the skin off. Add the banana liquor. After 1 minute, add in the rum and flambe using a torch. Be careful. Once the flames are extinguished, turn off the heat. Take the bananas and place over the pancake roll.
Step 3/3
Take the Hershey's caramel sauce and cut off the top, add in the reeses pieces. Mix. Add vanilla ice cream on the sides of the pancake roll and then pour over the caramel sauce with reeses. Sprinkle powdered sugar on top. Enjoy!