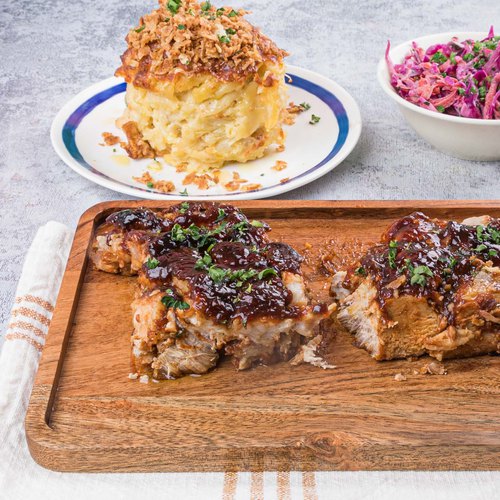 Are you 18 years old or older?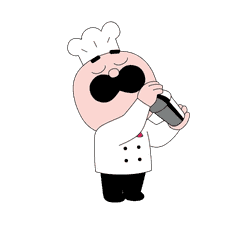 You must have the right to consume alcohol in your country of residence to continue on this site.
Please drink responsibly
The Fried Pork Crackling & 3 Cheese Macaroni
Fried Pork Crackling & 3 Cheese Macaroni! This combo is out of this world 🔥😜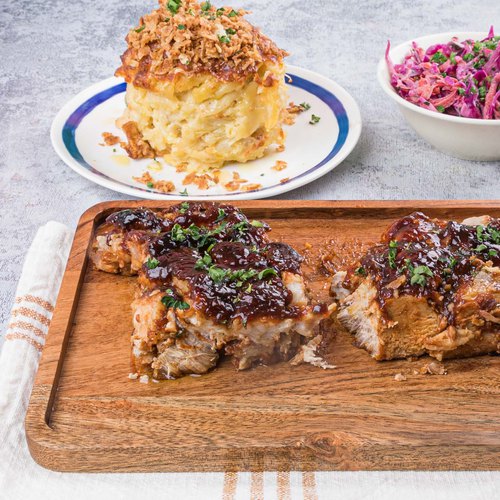 ---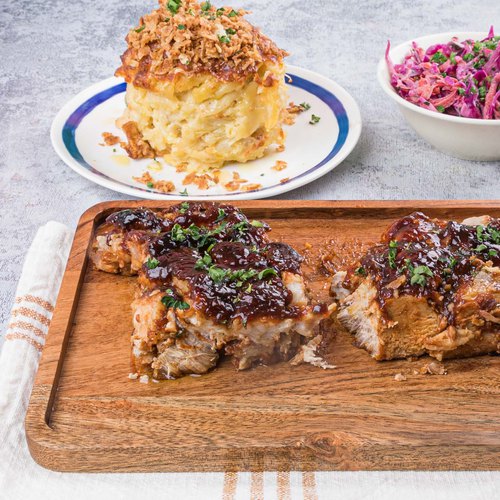 ---
Total time: 2 hours
Cook time: 2 hours
Ingredients for 4 people
1 pork belly
Salt & pepper
1 tbsp of garlic powder
230 ml of mustard
475 ml of bbq sauce
2 kg of macaroni pasta
230 ml of white wine
170 grammes of parmesan
170 grammes of gruyère
340 grammes of swiss cheese
110 grammes of butter
52 grammes of onion
950 ml of milk
1 garlic clove
60 grammes of flour
---
Kitchenware
Wine glasses
---
Step 1/3
Take a pork belly and cut the meaty side diagonally all the way about an inch apart. Flip it over and cut the fatty side vertically also about an 2.5 cm apart then cut diagonally to create small cubes (do not cut all the way through). Cover in mustard, salt, pepper and garlic powder. Bake for 35 minutes at 180°C then remove and cover in bbq sauce. Return to oven for 10-15 minutes.
Step 2/3
Make a cheese sauce with the milk, butter, flour, garlic clove and milk. Add the cheeses one cup at a time until well combined. Add wine and mix well. Combine pasta and sauce and place it in an oven safe dish. Preheat oven at 180°C. Sprinkle 1 cup of shredded cheese on top of the pasta and bake for 35 minutes.
Step 3/3
Take a wine glass and scoop up the mac and cheese and place it upside down in the center of a plate. Cut thick strips of the pork belly to wrap around the wine glass, remove the wine glass to reveal the mac and cheese. Top off with crispy onions and parsley. Enjoy!