Original


Roast Beef To Go

An entire Sunday Roast in your hands to take wherever you want...share the Yorkshire pudding love!
Quantity
2 people
Preparation
45 minutes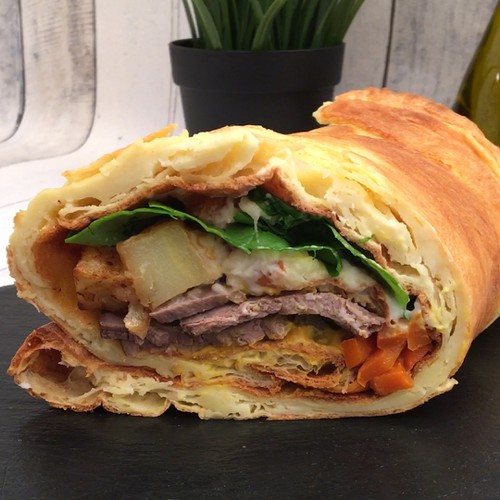 Steps
Peel and chop the carrots into batons, and chop the potato into small pieces. Place them in an oven-proof dish, along with the beef roasting joint and season with salt and pepper, and drizzle with olive oil. Bake in the oven for 45 minutes at 180°C, or until the beef is cooked as you like.

In a bowl, mix the eggs, flour and milk together. Add oil to a saucepan, then heat it up in the oven, then add the mixture to the hot pan and bake it in the oven for 15 minutes at 180°C, until puffed up.

Place the giant Yorkshire pudding on a plate, then add a layer of spinach in the middle. Then the roasted carrots and potatoes, and some scoops of cauliflower cheese. Layers the beef on top and add some mustard.

Roll the yorkshire pudding tightly around the filling and slice in the middle.

Enjoy warm, with gravy for dipping sauce.