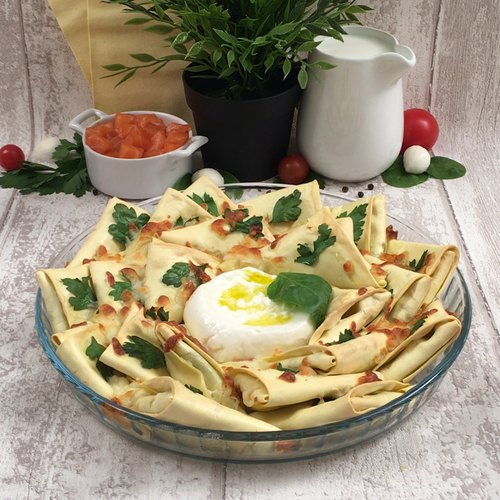 Are you 18 years old or older?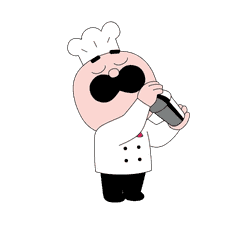 You must have the right to consume alcohol in your country of residence to continue on this site.
Please drink responsibly
Salmon & Spinach Pockets
A light twist on a classic dish!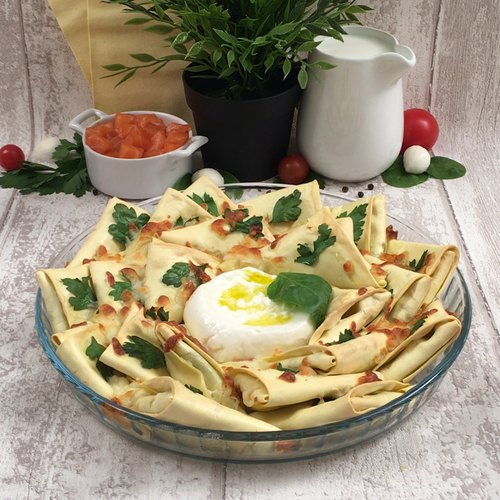 ---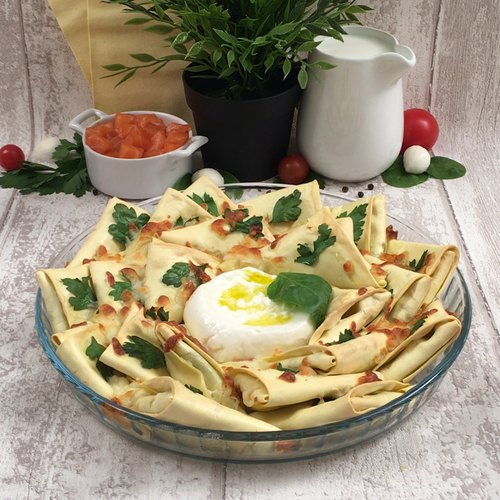 ---
Ingredients for 6 people
200 g of spinach leaves
120 g of salmon
3 tbsp of creme fraiche
12 fresh lasagna sheets
50 g of shredded mozzarella cheese
1 egg
1 burrata cheese
1 basil leaf
olive oil
parsley
---
Kitchenware
24 cm chefclub by tefal® frypan
Pie dish
Ramekin
---
Step 1/4
Heat the pan until the hourglass in the center of the pan has disappeared and then cook the spinach leaves in it with a drizzle of olive oil, salt and pepper. Add diced salmon along with the creme fraiche (1).
Step 2/4
Soak the lasagna sheets in hot water and cut them into rectangles if necessary. Place 1 tablespoon of spinach mixture on one end of each lasagna strip and fold into a triangle to form samoussas (2-3) removing any excess noodle if needed.
Step 3/4
Brush with a beaten egg, then place a parsley leaf on each samoussa (4). Place a ramekin in the center of a pie dish. Arrange the samoussas around it (5), sprinkle them with shredded mozzarella cheese (6) and place in the oven for 15 minutes at 180 °C.
Step 4/4
Remove the ramekin from the oven and insert the burrata cheese in its place. Open the top of the burrata, drizzle olive oil and place a basil leaf on top (7-8). Enjoy by dipping the samoussas in the burrata cheese.
Similar recipes from Chefclub
-
Our other recipes