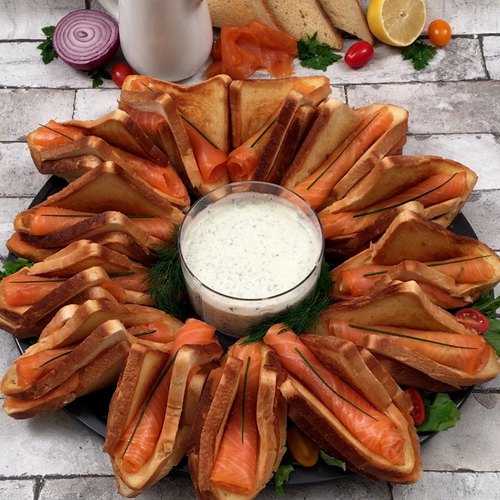 Are you 18 years old or older?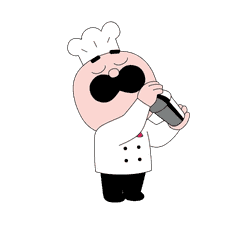 You must have the right to consume alcohol in your country of residence to continue on this site.
Please drink responsibly
Tea Sandwiches in the Round
Made for dipping, then devouring.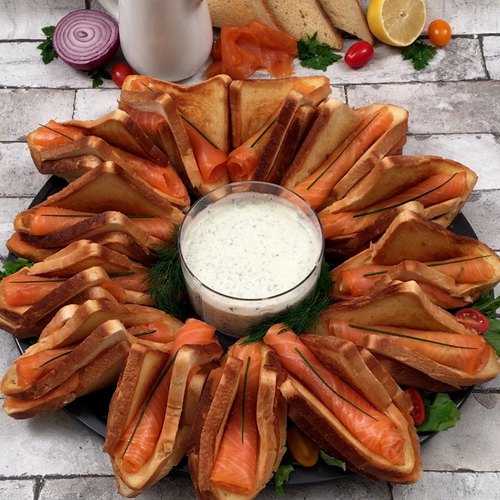 ---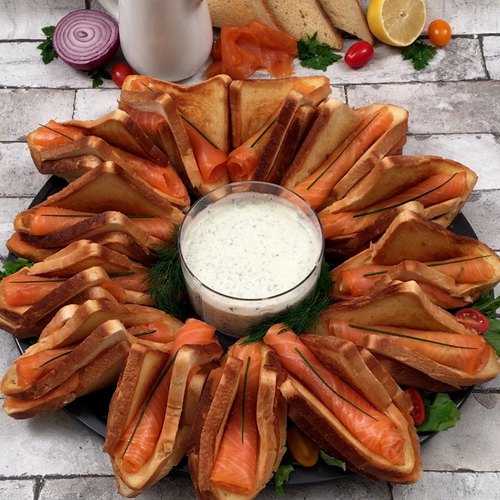 ---
Ingredients for 6 people
26 slices of white bread
26 slices of smoked salmon
500 g of butter
40 g of crème fraîche
1 red onion
10 g of chives
10 g of dill
---
Kitchenware
Tongs
Pan 24 cm chefclub by tefal®
Manual food processor chefclub by tefal®
Pizza baking tray chefclub by tefal®
---
Step 1/4
Brush the slices of bread with melted butter. Place 1 slice of salmon on half of the slices of sandwich bread (1) then close the sandwich with the remaining slices of bread.
Step 2/4
Heat the pan, then grill the sandwiches on both sides in it once the hourglass in the centre of the pan has disappeared (2-3).
Step 3/4
Mix together in the manual blender the dill, chives and red onion (4). Remove the lid of the blender and then the blades. Add the cream to the mixture with salt and pepper (5). Spread 1 teaspoon of this mixture over the remaining salmon slices (6) and roll them up.
Step 4/4
Place 1 salmon roll on each sandwich diagonally and fold the sandwiches around (7). Place the bowl of herb cream in the centre of the serving dish and arrange the sandwiches around it. Add 1 sprig of chives on each salmon roll and sprigs of dill between the sandwiches and the bowl of cream (8). Enjoy by dipping the sandwiches in the cream.
Similar recipes from Chefclub
-
Our other recipes