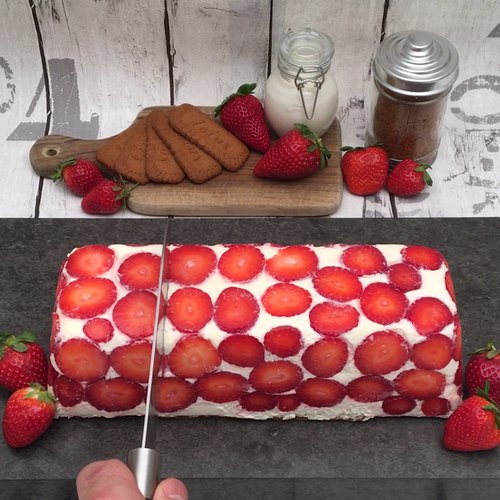 Are you 18 years old or older?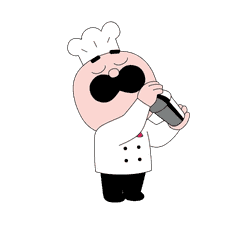 You must have the right to consume alcohol in your country of residence to continue on this site.
Please drink responsibly
Strawberry Ice-cream Cake
Ooooooooh so fancy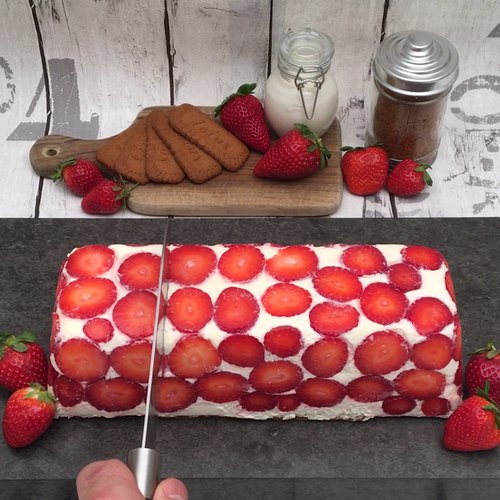 Oh strawberries and love, what a cliché! But we love it!
---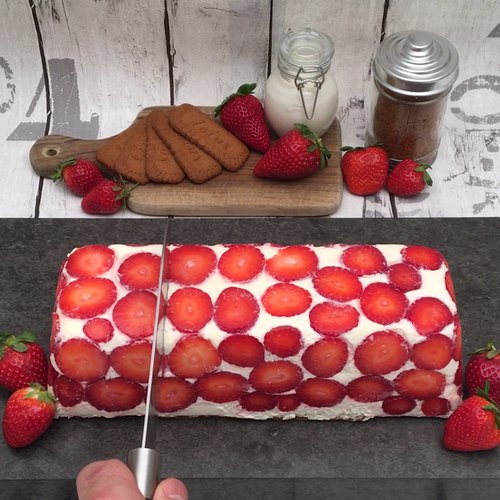 ---
Ingredients for 8 people
250 g of strawberries
500 ml of double cream
250 g of mascarpone cheese
70 g of icing sugar
125 g of strawberry ice-cream
75 g of chocolate ice-cream
75 g of vanilla ice-cream
200 g of spiced biscuits
---
Step 1/4
Cut a big piece of clingfilm and place 1 scoop of strawberry ice-cream, 1 scoop of vanilla, 1 scoop of chocolate and finally 1 more scoop of strawberry ice-cream in a row. Wrap the ice-cream tightly in the clingfilm to form one long piece and put it in the freezer for 10 minutes.
Step 2/4
Cut the strawberries into slices and arrange them on the bottom and sides of a glass terrine mold. In a bowl, beat the mascarpone, cream and icing sugar. Then spread half the mix on the bottom of the mold over the strawberries.
Step 3/4
Remove the ice-cream roll from the freezer, remove the clingfilm and arrange it in the middle of the cream mix. Cover the ice-cream with the rest of the cream mix. Arrange the biscuits on top of the cream and place the cake in the freezer for 4 hours to harden.
Step 4/4
Remove the mold and enjoy slices of the roll chilled.
Similar recipes from Chefclub
-
Our other recipes