Original


Pears with a Melting Chocolate Heart

So easy, so good!
Quantity
4 people
Preparation
20 minutes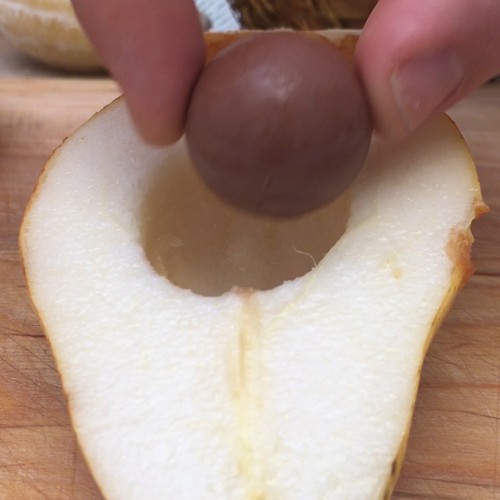 Steps
Cut the pears in half and remove the core from the middle, then place a chocolate lindt ball in each hole where the core was.

Turn the pears over and place them on the puff pastry sheet. Cut around the pears with a knife, leaving a margin of around 1.5cm. Draw some leaves on the remaining pastry with a knife, then cut them out and add tehm to the tops of the pear pastry.

Place the pears on a lined baking sheet and make vertical cuts into the fruit. Brush the fruit with lemon juice and dust with icing sugar. Brush the pastry with a beaten egg yolk.

Bake the pears in the oven for 15 minutes at 180°C. Serve them fresh with whipped cream on the side.