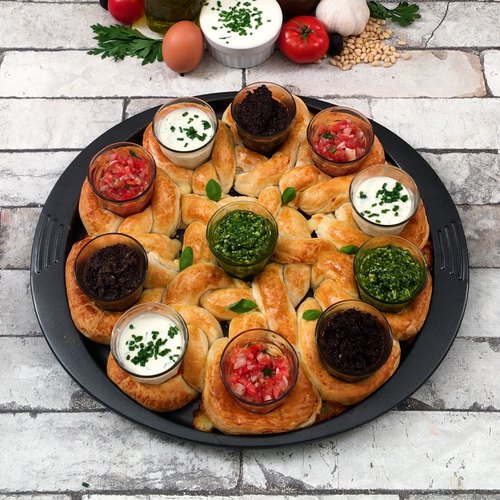 Are you 18 years old or older?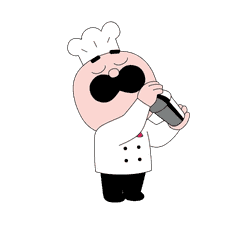 You must have the right to consume alcohol in your country of residence to continue on this site.
Please drink responsibly
Twisty Pasties
What is your favourite sauce?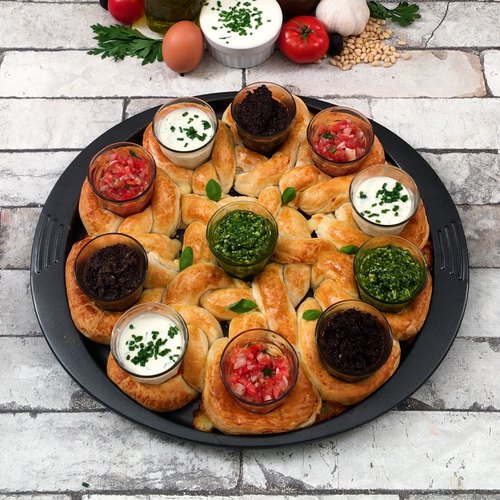 ---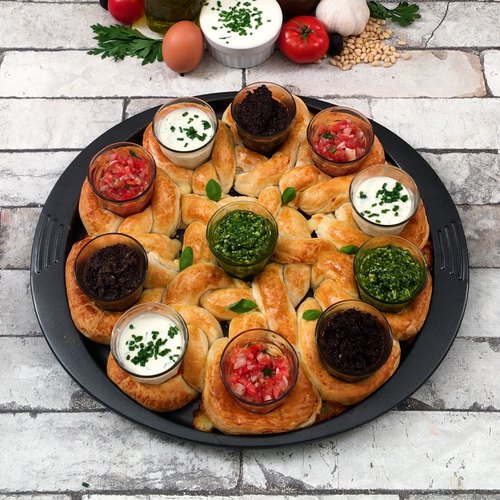 ---
Ingredients for 8 people
4 sheets of puff pastry
200 g of shredded mozzarella
1 egg yolk
2 tbsp of pine nuts
2 tbsp of grated parmesan
3 garlic cloves
4 tbsp of olive oil
2 bunches of basil
6 cherry tomatoes
1 shallot
40 pitted black olives
250 g of fromage frais
1 tbsp of mustard
flat-leaf parsley and chives
---
Kitchenware
Pizza baking tray chefclub by tefal®
Manual food processor chefclub by tefal®
Small glasses
---
Step 1/4
Cut the puff pastry into 4 strips of the same width. Place the shredded mozzarella on the strips (1) and roll them up lengthwise (2).
Step 2/4
Form a ring in the centre of the pizza pan with 1 of these strips. Wrap 5 more rings around the first one (3) and then form an extra row of rings around it with the remaining strips (4). Brush with egg yolk, place 11 small glasses in the rings (5) and place in the oven for 20 minutes at 180°C.
Step 3/4
Mix together in the food processor the pine nuts, grated parmesan, garlic cloves, half of the olive oil (6) and basil. Mix together in the food processor the tomatoes, 1 tbsp chopped flat parsley, and the shallot. Mix the black olives and the remaining olive oil together in the food processor. Mix together 4 tbsp chopped flat parsley and about 20 chives (7) in the food processor. Mix with the fromage frais, then add the mustard.
Step 4/4
Place each of the sauces in one of the glasses and enjoy by dipping the puff pastry strips into the sauces (8).
Similar recipes from Chefclub
-
Our other recipes