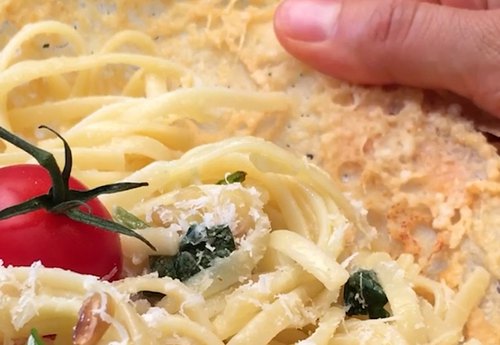 Are you 18 years old or older?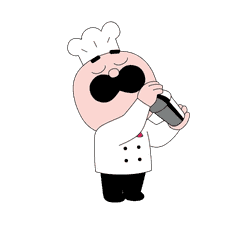 You must have the right to consume alcohol in your country of residence to continue on this site.
Please drink responsibly
Linguine in their parmesan bowl
No need to wash up, just eat the dishes too!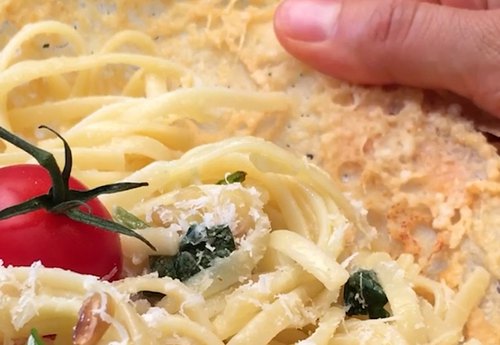 ---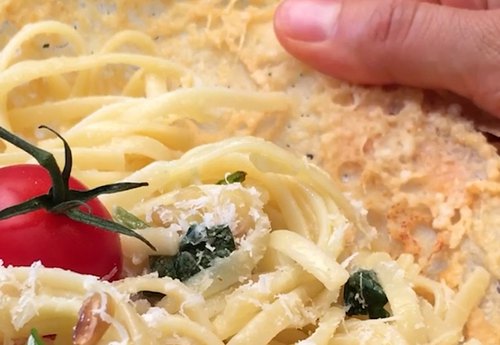 ---
Ingredients for 2 people
300 g of linguine pasta
200 g of grated parmesan
2 garlic cloves
30 g of pine nuts
cherry tomatoes
basil
olive oil
salt and pepper
---
Step 1/4
Spread grated parmesan in 2 circles on baking paper on a baking sheet, and bake in the oven for 15 minutes at 180°C. Take them out the oven and immediately place the soft parmesan disks on upturned bowls. As they cool they'll harden into the bowl shape.
Step 2/4
Cook the linguine for 8 minutes in salted boiling water. Save a ladle full of the cooking water for later.
Step 3/4
Fry the chopped garlic and pine nuts in a drizzle of olive oil. Add the cooked linguine, the ladle of cooking water, some fresh basil leaves and the grated parmesan, then mix it all together.
Step 4/4
Fill the parmesan bowls with the linguine, and garnish with the cherry tomatoes, salt and pepper. Enjoy!
Similar recipes from Chefclub
-
Our other recipes