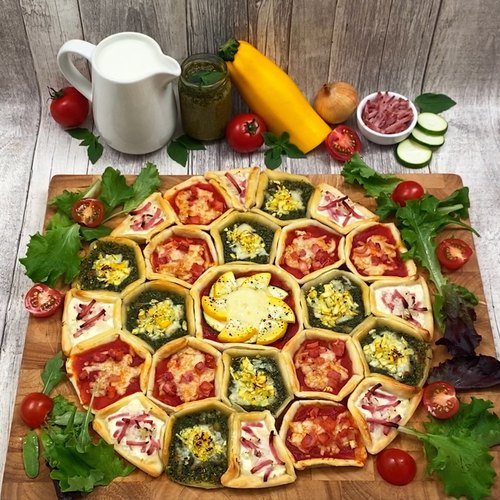 Are you 18 years old or older?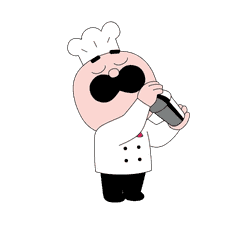 You must have the right to consume alcohol in your country of residence to continue on this site.
Please drink responsibly
Mosaic Pizza
Everyone is going to have their favourite part!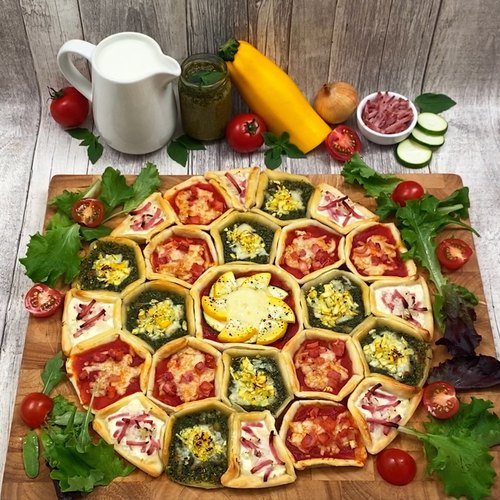 ---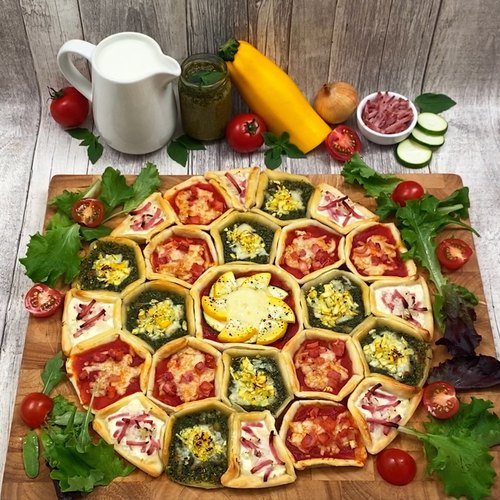 ---
Ingredients for 4 people
2 pizza doughs
1 bunch of basil
50 g of pine nuts
1 clove of garlic
120 ml of olive oil
75 g of grated parmesan
100 ml of tomato sauce
100 ml of crème fraîche
50 g of shredded mozzarella
50 g of diced ham
1 ⁄4 yellow courgette
1 onion
1 ⁄4 courgette
---
Kitchenware
Bowls (1 smaller than the other)
Pizza baking tray chefclub by tefal®
Manual food processor chefclub by tefal®
---
Step 1/3
Cut 1 disc from the first pizza dough with a large bowl. Cut another 24 discs with a smaller bowl from the second pizza dough. Place the largest disc in the centre of the pizza baking tray and stick 8 other small discs around it, sealing the edges together so that there aren't any gaps between each disc (1). Attach the remaining discs around the previous ones to fill the tray (2).
Step 2/3
Mix together in the manual food processor the basil, pine nuts, garlic clove, salt, pepper, olive oil and parmesan cheese (3-4). Spread tomato sauce on the middle pizza dough disc. Spread pesto and tomato sauce alternately in the first circle of discs and then spread pesto, tomato sauce and crème fraîche alternately in the last circle of discs (5).
Step 3/3
Spread the shredded mozzarella cheese on the pesto and tomato sauce discs. Grate yellow courgette on the pesto discs. Spread the diced ham on the tomato sauce and crème fraîche discs (6). Add chopped onion to the crème fraîche discs. Place pieces of yellow and green courgettes in the middle disc (7) with shredded mozzarella cheese. Place in the oven for 15 minutes at 180 °C and enjoy the mini pizzas (8).