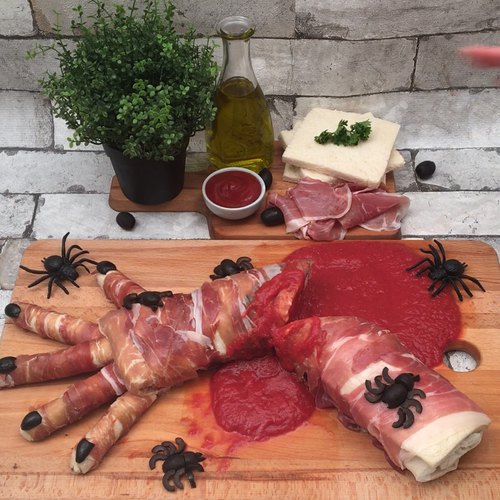 Are you 18 years old or older?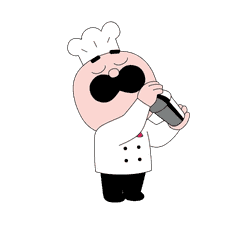 You must have the right to consume alcohol in your country of residence to continue on this site.
Please drink responsibly
Halloween Appetizer
Get your hand off of my food! 🧟‍♂️🖐🧟‍♀️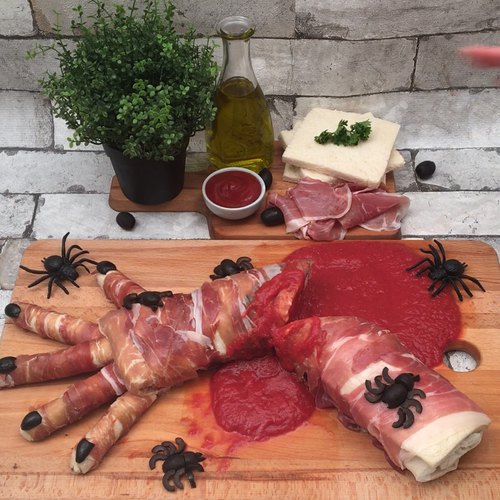 ---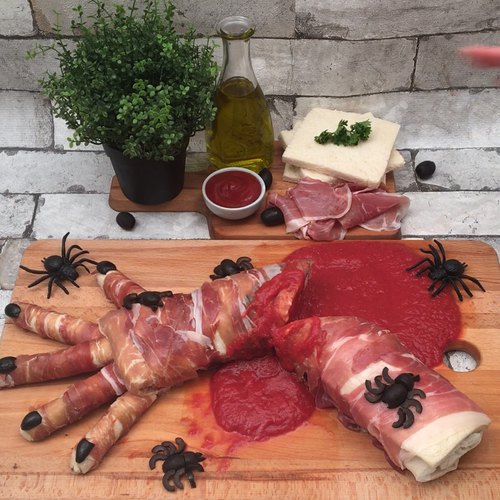 ---
Ingredients for 8 people
14 slices of sandwich bread
38 slices of prosciutto
3 black olives
butter
tomato sauce
---
Kitchenware
Plastic wrap
Rolling pin
String
---
Step 1/3
On plastic wrap, place 9 slices of sandwich bread in a large square with the edges slightly overlapping then flatten with the rolling pin. Butter the bread and place 9 slices of prosciutto on top, place the cheese slices in the middle. With the help of the plastic wrap, roll the bread until it becomes a tight log. 2 3/4 inches in from one end, tie the string and then flatten the edge with the rolling pin. Cool for 1 hour.
Step 2/3
Place 1 slice of prosciutto on each slice of sliced bread that is remaining and roll them up so that you have five small rolls. Roll another piece of prosciutto around them so they're completely covered.
Step 3/3
Remove the string from the large roll. Place the 5 small rolls in the flattened edge to form fingers and a hand. Place a half olive on each finger to make nails. Create stitches on the large roll (the arm) with the remaining cut olives. Cover the whole arm with the remaining slices of prosciutto. Cut the arm in 2, and add tomato sauce in and around the cut. Enjoy!
Similar recipes from Chefclub
-
Our other recipes