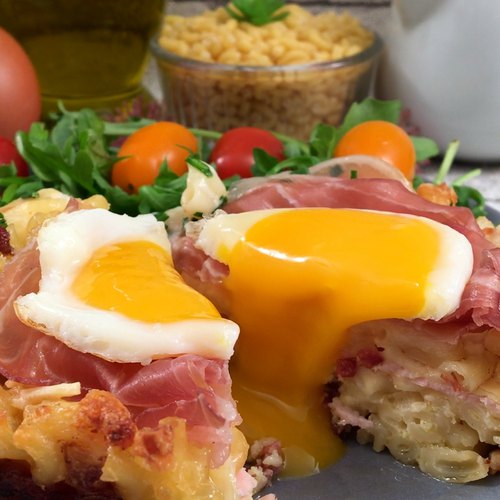 Are you 18 years old or older?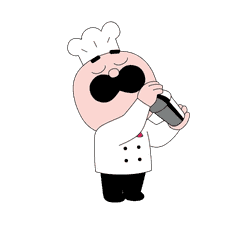 You must have the right to consume alcohol in your country of residence to continue on this site.
Please drink responsibly
Carbonara Casserole
The ultimate pasta casserole alla carbonara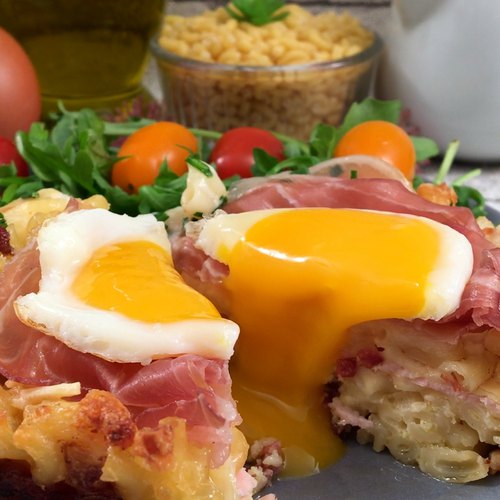 ---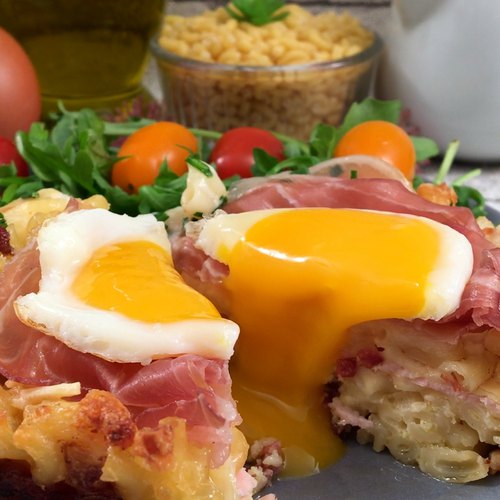 ---
Ingredients for 6 people
600 g of macaroni pasta
300 g of bacon lardons
120 ml of cream
8 eggs
80 g of parmesan cheese
12 slices of emmental cheese
6 slices of cooked ham
150 ml of white sauce
120 g of shredded mozzarella
6 slices of prosciutto
chives
---
Kitchenware
20 cm chefclub by tefal® stewpot
24 cm chefclub by tefal® frypan
Baking dish
Aluminum foil
---
Step 1/5
Cook the macaroni pasta in the Stewpot. Next, heat the pan and fry the bacon with a drizzle of olive oil once the hourglass in the center of the pan has disappeared. Once cooked, add the cream, salt and pepper to the pan and reduce the temperature slightly (1).
Step 2/5
Beat 2 eggs, then add the Parmesan cheese. Mix together the macaroni pasta, the creamy bacon, and the egg preparation.
Step 3/5
Form 3 strips of aluminum foil and cut 2 notches in 2 of them. Place the strips in a rectangular baking dish to form 6 square compartments (2). Spread half of the pasta into the compartments. Then place 1 slice of Emmental cheese, 1 slice of ham and 1 new slice of Emmental cheese on each square and cover with the remaining pasta (3).
Step 4/5
Form 6 strips of aluminum foil and fold them into circles (4). Heat the pan and place the 6 aluminum circles on the pan. Then crack the remaining eggs into the circles once the hourglass in the center of the pan has disappeared.
Step 5/5
Remove the aluminium strips from the pasta dish and pour the white sauce into the empty spaces they have left. Sprinkle the shredded mozzarella cheese over the pasta squares (5) and bake for 15 minutes at 180 °C. Remove from the oven, sprinkle with chopped chives and place 1 slice of prosciutto and 1 cooked egg on each square (6). Serve and enjoy (7-8).
Similar recipes from Chefclub
-
Our other recipes