Are you 18 years old or older?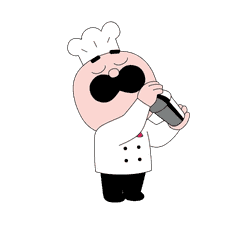 You must have the right to consume alcohol in your country of residence to continue on this site.
Please drink responsibly
Uber Creamy Spaghetti
Uber Creamy Spaghetti! And the fantastic wine opener trick!
---
---
Ingredients for 4 people
1 mont d'or (or similar soft wooden-boxed cheese)
250 g of spaghetti
100 g of diced bacon lardons
50 ml of white wine
1 garlic clove
parsley
---
Step 1/3
Using a knife, cut a circle lid into the top of the cheese. Lift the lid of the cheese and add the white wine, cooked bacon, and finely chopped garlic
Step 2/3
Replace the lid on the cheese and bake in the oven for 20 minutes at 180°C. Cook the spaghetti in salted boiling water until al dente, and drain.
Step 3/3
Lift the lid of the cheese and dip the pasta into it using a pair of tongs to swirl the pasta round and completely coat it with the cheese. Serve the pasta garnished with chopped parsley.
Similar recipes from Chefclub
-
Our other recipes