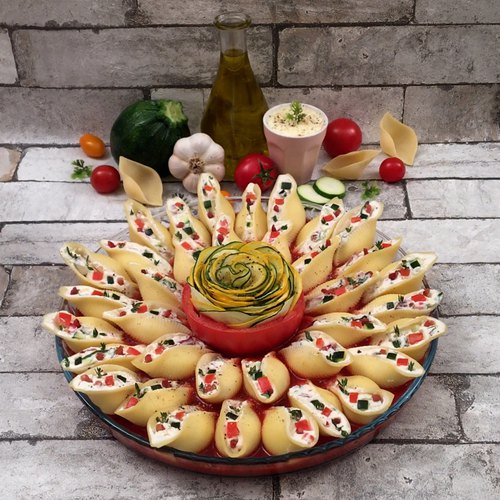 Sunshine Pasta
Stuffed summertime pastas around a beautiful tomato rose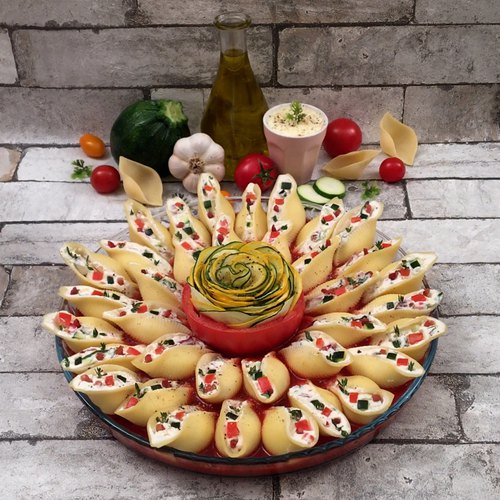 ---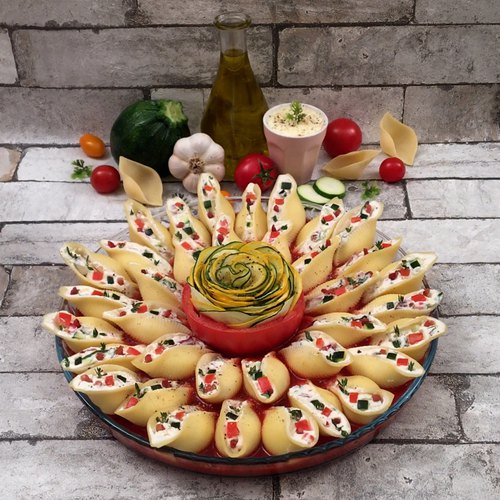 ---
Ingredients for 4 people
600 g of conchiglioni
700 g of ricotta
3 tomatoes
2 green courgettes
200 ml of olive oil
150 g of bacon
1 yellow courgette
300 ml of tomato sauce
parsley
thyme
---
Kitchenware
20 cm chefclub by tefal® stewpot
24 cm chefclub by tefal® frying pan
Pie dish
---
Step 1/3
Cook the pasta in the stewpot filled with boiling salted water and drain. Mix the ricotta, 2 diced tomatoes, 1 and 1⁄2 of diced green courgette, chopped parsley and thyme, salt, pepper and olive oil (1). Cook the bacon in the pan once the hourglass in the center of the pan has disappeared, then add it to the mixture. Then fill the conchiglioni with this mixture (2-3).
Step 2/3
Cut off the top of the remaining tomato and hollow it out. Fill the hollowed out tomato with slices of green and yellow zucchini alternately to form 1 flower (4).
Step 3/3
Pour the tomato sauce into the pie dish and place the filled tomato in the center (5). Place the filled conchiglioni in the tomato sauce around the tomato. (6). Drizzle olive oil over the tomato (7), season with salt and pepper and place in the oven for 10 minutes at 170 °C (8). Remove from the oven and let cool. When ready, enjoy this delicious finger food dish!
Similar recipes from Chefclub
-
Our other recipes