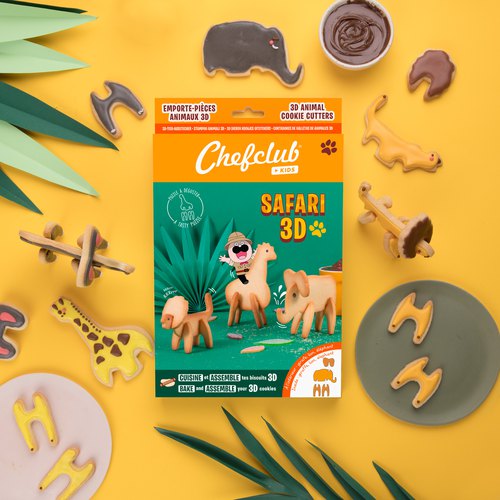 3D Safari Sugar Cookies
This treat is roarsome! 🦒🦁🐘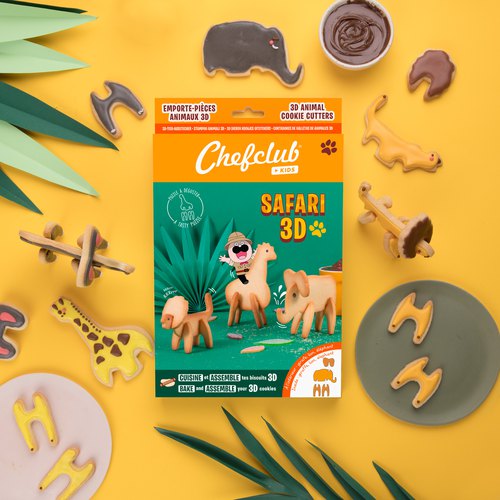 ---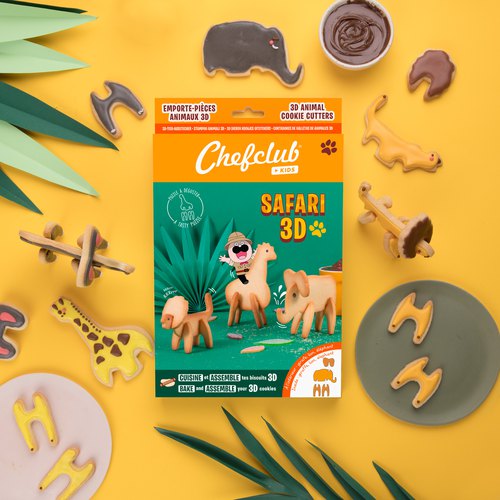 ---
Total time: 2 hours 52 minutes
Prep time: 40 minutes, Cook time: 12 minutes, Rest time: 2 hours
Ingredients for 5 people
4 cups of powdered sugar
1 3/4 cups of flour
1 tsp of vanilla extract
1 egg
1 pinch of salt
0.3 cup of butter
3 tsp of lemon juice
Yellow food coloring
Blue food coloring
Red food coloring
---
Tools
Cling wrap
3D safari cookie cutters
Chefclub baking mat
Chefclub rolling pin
Ziploc bag
---
Step 1/4
Mix 1 chef of powdered sugar, 3 pigs of flour, 1 cat of soft butter, 1 chick of vanilla extract and 1 pinch of salt so that the ingredients are well blended. Add the egg and mix again to obtain a smooth dough. Form a ball of dough, wrap in cling wrap and refrigerate for 1 hour.
Step 2/4
Remove the dough from the cling wrap and roll out the dough using the Chefclub rolling pin and its 0.1 inch rings. Cut the dough using Safari 3D cookie cutters, place them on the Chefclub baking mat and refrigerate them for 1 hour. Bake for 12 minutes at 350°F.
Step 3/4
Mix 2 chefs of powdered sugar and 1 hen of lemon juice to obtain a smooth icing, divide the icing into 6 cups. Add yellow food coloring to the first bowl for yellow icing. Add red food coloring with a little blue food coloring to the second bowl for pink icing. Add red food coloring, yellow food coloring and a little blue food coloring in the third bowl to obtain a brown icing. Add some yellow food coloring, red food coloring and blue food coloring in the fourth bowl to get gray icing. Add red food coloring and yellow food coloring in the fifth bowl to get orange icing. Place each of the 6 icings in a ziploc bag, cut off the bottom corners and set aside.
Step 4/4
Pipe the yellow icing on the giraffe sugar cookies, the gray icing on the elephant sugar cookies, the orange icing and the brown fur icing on the lion sugar cookies. Pipe the brown icing to form the spots of the giraffe, the white icing for the tusks of the elephant, the pink icing for the inside of the ears of the elephant and the cheeks of the lion and the giraffe. Assemble the lion, giraffe and elephant pieces to form the animals and enjoy!