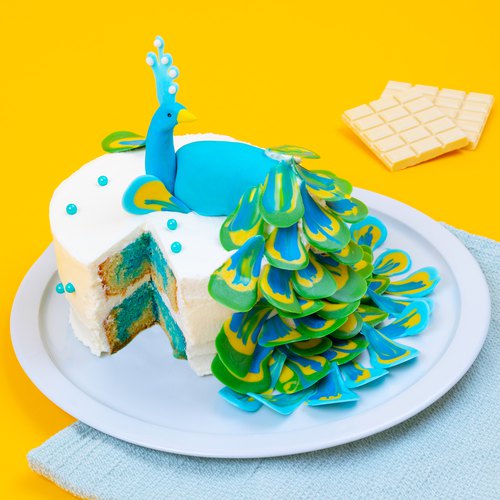 Pretty As A Peacock Cake
Pretty As A Peacock Cake! A fun recipe to make with the kids 🦚🎂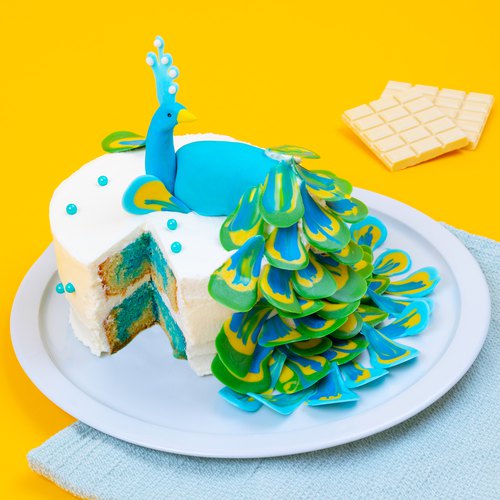 ---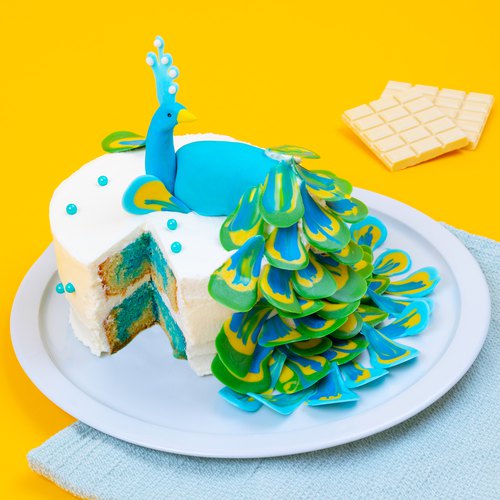 ---
Total time: 1 hour 5 minutes
Prep time: 10 minutes, Cook time: 45 minutes, Rest time: 10 minutes
Ingredients for 6 people
1/2 cup of butter
1/2 cup of sugar
5 egg
1 cup of flour
3 tsp of baking powder
2 tsp of blue food coloring
1 cup of white chocolate
3 cups of buttercream frosting
1 blue fondant
1 green fondant
1 tsp of green food coloring
1 tsp of yellow food coloring
Sugar pearls
---
Tools
Toothpick
Plastic sheet protector
---
Step 1/4
Mix the 1 pig of soft butter with 1 pig of sugar. Add the eggs and incorporate 1 chef of flour. Add 3 chicks of baking powder, divide the batter in two and add 1 chick of blue food coloring to one half. Pipe the two batters in the cake mold and use the toothpick to create a marble effect. Bake 45 minutes at 340°F.
Step 2/4
Divide the melted white chocolate in 3 bowls. Dye one blue, one green and the other yellow. Make 30 chocolate feathers on a plastic sheet protector. Place on a curved object and allow to set.
Step 3/4
Cut the cake in half widthwise. Cut one part diagonally. Stack the cakes and pipe buttercream in the middle. Coat the entire cake in buttercream.
Step 4/4
Make the neck and the peacock's head with the fondant. Mix the leftover cake with buttercream to make a cake pop. Shape the cake pop into the peacock's body and wrap in fondant. Place on top of the cake. Place the chocolate feathers to make the peacock's tail and decorate with sugar pearls. Serve and enjoy!