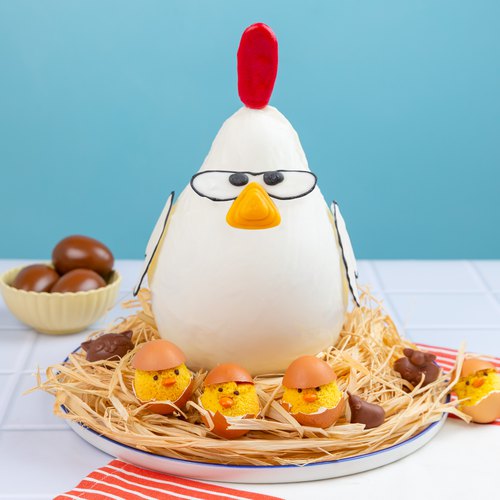 Chocolate Easter Hen & Chicks
Chocolate Easter Hen & Chicks! Ready, set, hunt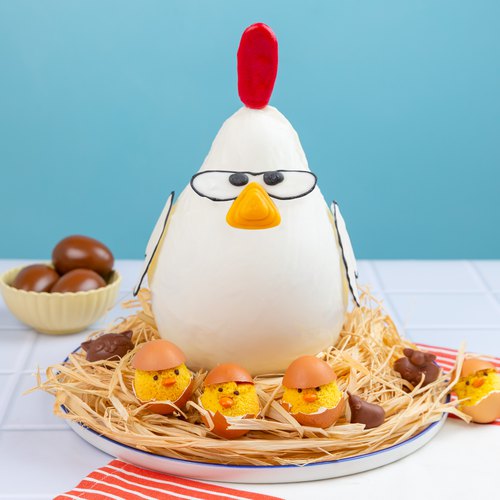 ---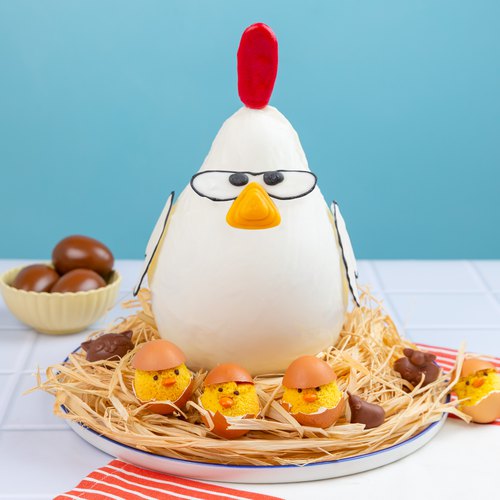 ---
Total time: 35 minutes
Prep time: 20 minutes, Cook time: 15 minutes
Ingredients for 6 people
7 oz of milk chocolate
9 oz of white chocolate
1/2 cup of sugar
4/5 cup of flour
Jordan almonds
Chocolate eggs
Lemon zest
Oil
Red food coloring
Orange food coloring
Orange candies
---
Tools
Chefclub chocolate mold
Balloons
Cling wrap
Egg carton
Electric hand mixer
Aluminum foil
---
Step 1/5
Melt the milk chocolate and then pour it into the Chefclub chocolate mold. Refrigerate to set.
Step 2/5
Inflate the 2 balloons and cover them entirely with cling wrap. Melt the white chocolate and pour it over half of the balloon. Let it set, then remove the balloon and cling film. Smooth the edges on a hot baking sheet, then repeat the process a second time to obtain two half-shells.
Step 3/5
Fill one half-shell with jordan almonds, chocolate eggs, and candies, then close it with the second half-shell. Place everything in the straw nest. Draw Colette's eyes, wings, and crest with white chocolate, milk chocolate, and red and orange colored chocolate on a sheet of baking paper, then chill.
Step 4/5
Completely cover the egg carton with aluminum foil. Separate the egg whites from the yolks, then beat the egg whites until stiff peaks form using an electric mixer. Mix the yolks and powdered sugar, then add lemon zest. Gently fold in the egg whites and flour, then mix again. Clean the eggshells and steam them for 15 minutes to disinfect them. Grease the inside of the eggshells and place them in the egg carton. Pour the batter into each shell and bake for 15 minutes at 340 °F.
Step 5/5
Peel half of the eggshells, then cover the cakes with the other end of the shell. Decorate the cakes with orange candies and the remaining melted milk chocolate. Attach the eyes, wings, and crest onto Colette's body, place the chicks all around, and enjoy.