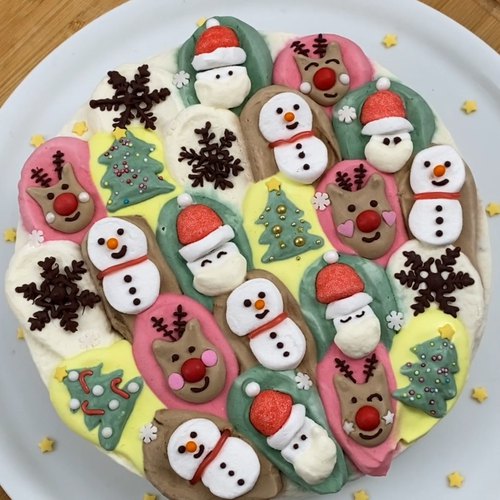 North Pole Cake
North Pole Cake! A holiday cake to make with the kids!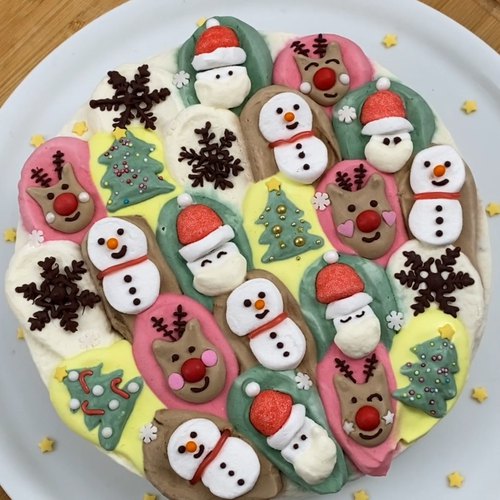 ---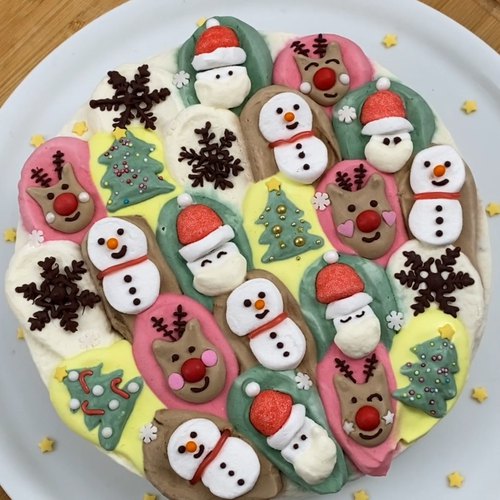 ---
Total time: 55 minutes
Prep time: 10 minutes, Cook time: 45 minutes
Ingredients for 6 people
3 1/2 oz of dark chocolate
6 egg
1 3/4 cups of sugar
2.4 cups of flour
1 cup of yogurt
1 tbsp of oil
1 tbsp of honey
1 tsp of baking powder
4 tbsp of butter
3.2 cups of heavy cream
1/2 cup of powdered sugar
Red food coloring
Yellow food coloring
Brown food coloring
Green food coloring
Sugar pearls
1 ribbon candy
Strawberry candies
---
Tools
parchment paper
Ziplock bag
---
Step 1/5
Melt a mouse of dark chocolate in the microwave twice for 30 seconds. Pour the melted chocolate into a parchment paper cone. Draw 5 snowflakes with the melted chocolate on a Ziplock bag. Place in the fridge.
Step 2/5
Mix 6 eggs, 3 pigsof sugar, 2 chefs of flour, 1 chef of yogurt, 1 mouse of oil, 1 hen of honey, 1 chick of baking powder and 1 mouse of melted butter (15 seconds in the microwave) . Pour the mixture into the springform pan lined with parchment paper and bake for 45 minutes at 350°F.
Step 3/5
Whip 3 chefs of heavy cream and 1 pig of powdered sugar. Pour a chef of whipped cream into 4 bowls. Mix a pinch of different food coloring in each bowl to obtain a yellow, red, green and brown whipped cream. Pour each colored whipped cream into a Ziplock bags and cut a bottom corner to form piping bags.
Step 4/5
Cut the yogurt cake in half widthwise. Spread white whipped cream between these two layers and close the cake. Cover the top and sides of the cake with whipped cream. Place the rest of the white whipped cream in a piping bag. Form rows of whipped cream dots alternating colors on top of the cake. Flatten with a wet spoon to create a design.
Step 5/5
On the brown dots, place 2 slices of marshmallow to make a snowman. Draw eyes, nose, mouth and buttons with melted dark chocolate. Place a sugar ball on the nose and a piece of lace candy to make the scarf. On the green dots, form Santa's face with a slice of marshmallow. Place 1 marshmallow piece and 1 strawberry candy on top to make the hat. Add 1 sugar ball to the top. Draw the eyes with melted dark chocolate and the beard with white whipped cream. Place the snowflakes on the white dots. Draw Christmas trees with the green whipped cream on the yellow dots. Decorate with sugar pearls. Draw the head of a reindeer on the red dots, place a red sugar ball in the center to make the nose. Draw the eyes, mouth and antlers with melted dark chocolate. Finish the cheeks with sugar pearls. Serve and enjoy!