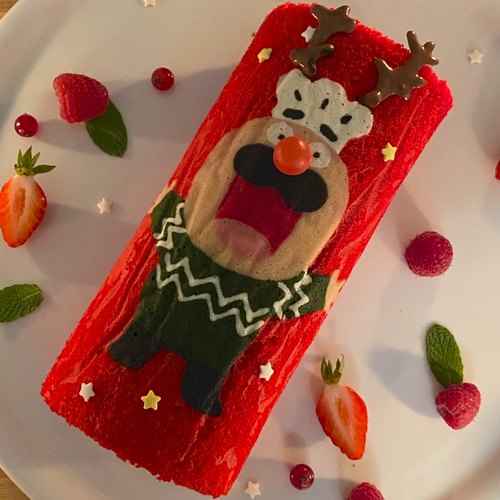 Chefclub Kids Holiday Cake
Chefclub Kids Holiday Cake! Filled with fresh raspberries and vanilla frosting 😋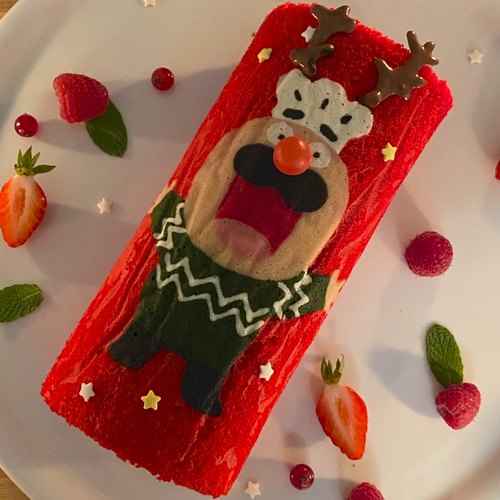 ---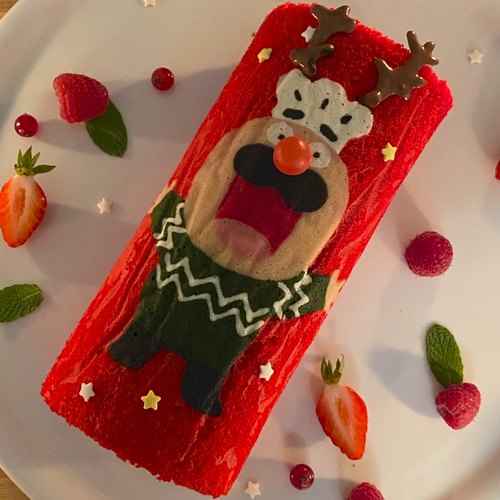 ---
Total time: 1 hour 25 minutes
Prep time: 5 minutes, Cook time: 20 minutes, Rest time: 1 hour
Ingredients for 6 people
4 squares chocolate
2 tbsp of butter
3/5 cup of powdered sugar
3 egg
1 egg white
10 tbsp of flour
1 cup of heavy cream
1 vanilla bean
3 1/2 oz of mascarpone
30 raspberries
Green food coloring
Red food coloring
Pink food coloring
Black food coloring
Yellow food coloring
Candies
---
Tools
parchment paper
Toothpicks
Electric mixer
---
Step 1/4
Melt 1 hen of milk chocolate for 15 seconds in the microwave. Use a toothpick to draw 2 melted chocolate reindeer antlers on parchment paper. Place in the freezer.
Step 2/4
For the colored icings: mix 2 hens of butter, 1 mouse of powdered sugar and the egg white. Add 1 mouse of flour, mix well and divide into 6 small bowls. Keep a white preparation and add the different food coloring to each bowl. Make cones with parchment paper and fill with the icings. Print
the drawing of chef Maurice in his Christmas sweater
, place it in a baking sheet, cover with parchment paper and copy the drawing with the icings. Place in the freezer for 1 hour.
Step 3/4
Beat 3 eggs and 1 cat of sugar with an electric mixer. Add a pinch of red food coloring and mix again until smooth. Sift 1 pig of flour, mix and pour the preparation on the chef Maurice placed on the baking sheet (don't forget to remove the drawing underneath). Bake for 20 minutes at 350°F. Allow to cool then cover the red cake with a sheet of parchment paper, turn the cake over, remove the sheet that covers the side with the drawing of chef Maurice, put a new sheet and turn the cake over again.
Step 4/4
Whip 1 chef of heavy cream, 1 hen of powdered sugar, the scraped vanilla bean and 1 cat of mascarpone. Cover the face of the red cake (without the design) with whipped cream and arrange a line of whole raspberries close to the edge. Add 2 rows of raspberries cut in half. Roll the cake using the parchment paper. Place the cake on a dish, chef Maurice face up. Decorate with a candies to make the nose and sugar stars. Plant the chocolate antlers above the hat. Cut into slices and enjoy!