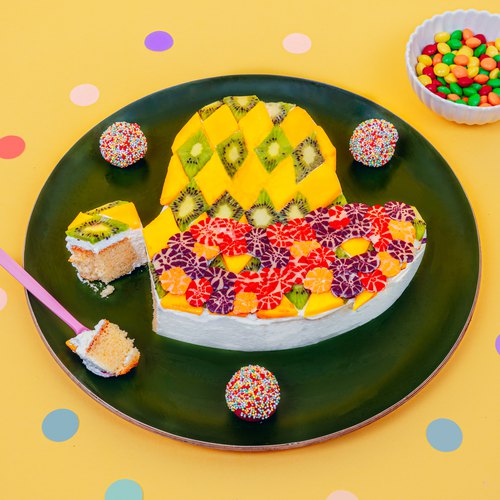 Festive Carnival Cake
Festive Carnival Cake! You're in for a good time 🎉🎂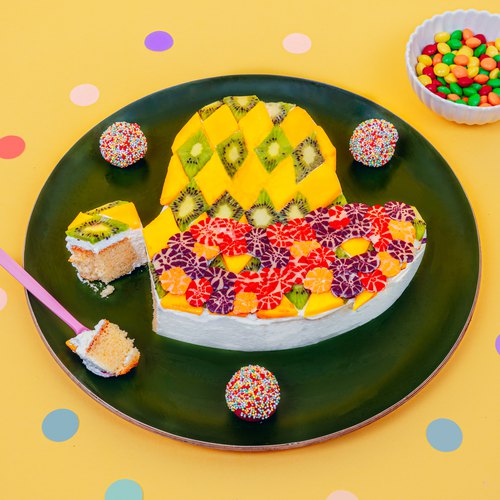 ---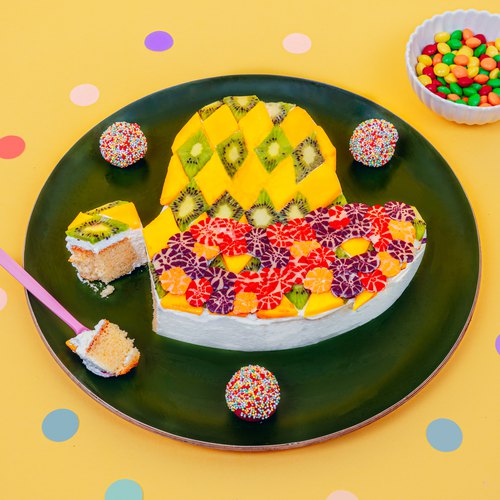 ---
Total time: 1 hour 35 minutes
Prep time: 25 minutes, Cook time: 40 minutes, Rest time: 30 minutes
Ingredients for 6 people
1 cup of yogurt
1 3/4 cups of sugar
5 egg
2.4 cups of flour
2 1/4 tsp of baking powder
1 cup of oil
1 cup of heavy cream
3 tbsp of powdered sugar
1 mango
3 kiwis
4 tbsp of butter
3 oz of white chocolate
3 1/2 oz of sprinkles
Red food coloring
40 candies
---
Tools
Skewers
parchment paper
Mask pattern
---
Step 1/5
Mix 1 chef of yogurt, 1 chef and 1 pig of sugar, the eggs, 2 chefs of flour, 1 hen of baking powder and 1 chef of oil until you obtain a smooth batter. Pour everything into a round mold and bake for 40 minutes at 340°F.
Step 2/5
Whip 1 chef of heavy cream and 2 hens of powdered sugar using an electric mixer. Cut the cake in the shape of a hat. Spread the whipped cream all over the cake. Cut the kiwi and the mango into diamond shapes of the same size. Place the fruit diamonds on top of the cake, alternating them.
Step 3/5
Crumble the rest of the cake by hand, add 1 mouse of softened butter and mix. Form balls and prick them on a wooden skewer. Melt 1 cat of white chocolate, add a few drops of red food coloring and mix. Dip the cake balls in the colored chocolate, then roll the upper part in the sprinkles.
Step 4/5
Sort the candies by color. Place the pattern of a mask on the plate and cover it with parchment paper. Place the red, purple and orange colored candies over the drawing, then melt them in the microwave for 30 seconds. Cover the softened candies with another parchment paper, then crush them using a glass. Refrigerate for 30 minutes.
Step 5/5
Place the hat cake, the cake balls and mask on a plate. Serve and enjoy!