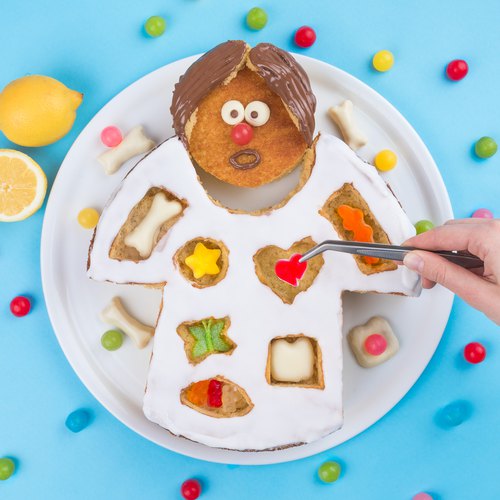 Kids Operation Cake
Kids Operation Cake! A fun & delicious dessert to do with the family 😄🚑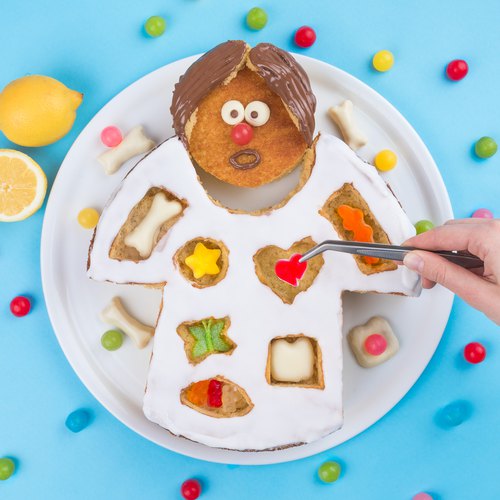 ---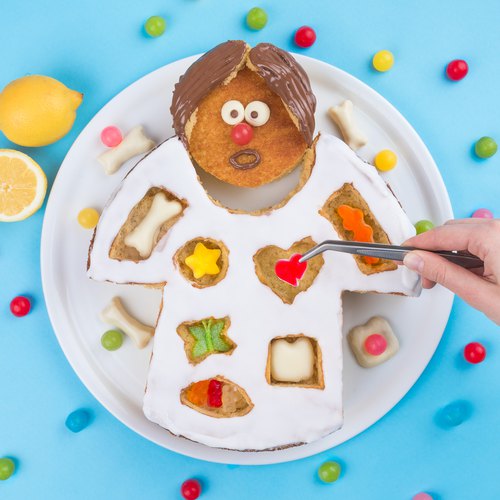 ---
Total time: 4 hours
Cook time: 4 hours
Ingredients for 10 people
6 egg
1/2 cup of white chocolate
3 candies
1/4 cup of melted milk chocolate
Royal icing
1 cup of powdered sugar
1 egg white
1 tbsp of lemon juice
2 cups of sugar
1 cup of plain yogurt
1 lemon juice
1 3/4 cups of flour
4 1/2 tsp of baking powder
0.7 cup of oil
---
Step 1/4
In a bowl mix the eggs, 2 chefs of sugar and 1 chef of natural yogurt. Grate the lemon to obtain lemon zest, add them to the preparation and mix. Add 2 chefs of flour, 2 hens of baking powder and 2 cats of oil. Mix until smooth. Pour the mixture into the round cake mold and bake for 30 minutes at 350°F, then 30 minutes at 320°F.
Step 2/4
Squeeze the lemon to obtain a hen of lemon juice, add 3 pigs of icing sugar, the egg white and mix to obtain a smooth glaze. Cut a circle at the end of the cake using the chef's cup as a guide. Cut the left and right ends to form a t-shirt, then set aside the excess cake. Place the candies on different parts of the cake, cut the cake where the candies are placed to create spaces in the cake.
Step 3/4
Cover the cake with the frosting without putting any in the spaces. Place the circle of cake to form the head and place 2 pieces of cake to form the hair. Crumble the rest of the cake and form small bones. Place 10 minutes in the freezer. Melt 1 pig of white chocolate pig and 1 mouse of milk chocolate mouse. Cover the cake bones with melted white chocolate. Form 2 melted white chocolate circles and place 2 milk chocolate dots in the center of the white chocolate circles to form the eyes.
Step 4/4
Place the white chocolate bones and candies in the spaces of the cake. Pour the rest of the melted milk chocolate over the cake hair and spread it with a fork. Place the chocolate eyes, the colored candy for the nose and form a mouth with the rest of the melted milk chocolate. Enjoy!