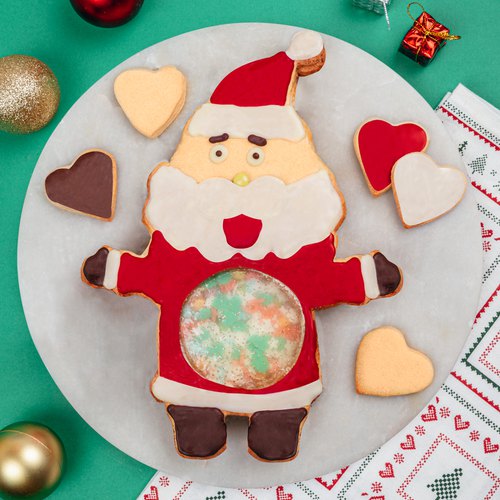 Crispy Kringle
Crispy Kringle! Santa isn't the only one deserving of cookies this year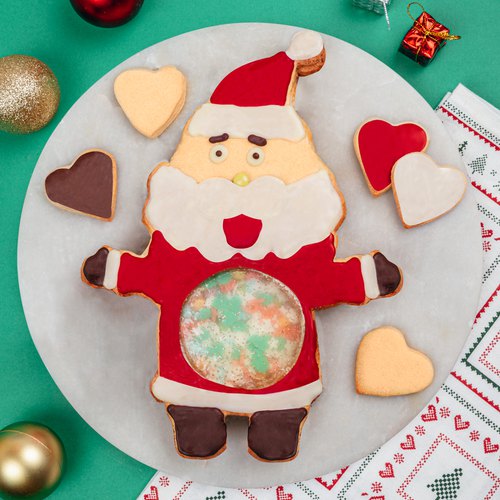 ---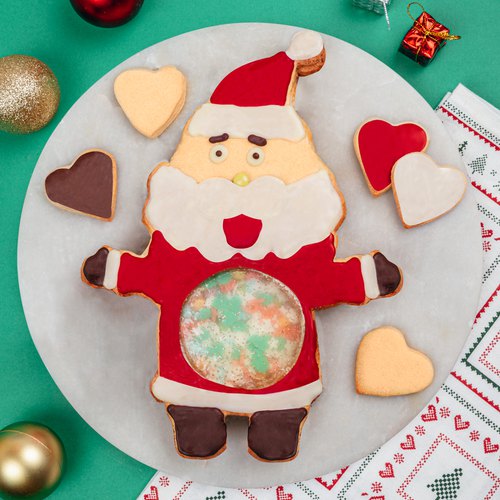 ---
Total time: 1 hour 5 minutes
Prep time: 45 minutes, Cook time: 20 minutes
Ingredients for 4 people
1 cup of powdered sugar
1 cup of butter
3 egg
4.3 cups of flour
8 mint candies
10 1/2 oz of white chocolate
Sugar decorations
Shredded coconut
2 1/2 oz of dark chocolate
---
Tools
parchment paper
Ziplock bag
---
Step 1/4
Mix 1 chef of powdered sugar and 1 chef of butter. Add 3 beaten eggs to the mixture then add 3 chefs of flour. Knead until you smooth and refrigerate.
Step 2/4
Download the Chefclub Father Christmas template
then cut it out. Roll out the dough with the rolling pin, place Santa Claus on it then cut the dough around it. Repeat 2 times. Remove a disc of dough from Santa's belly using the pig cup. Place the Santas on a baking tray lined with parchment paper and place 4 mint candies in the belly holes of 2 of the Santas. Bake for 15 minutes at 350°F.
Step 3/4
Melt a chef and a pig of white chocolate by heating it 2x30 seconds in the microwave. Stir and then put it back in the microwave. Repeat a third time. Do the same twice with a cat of dark chocolate. Add red food coloring to the white chocolate. Place each chocolate in a Ziplock bag.
Step 4/4
Cut one of the bottom corners of each Ziplock bag to make piping bags. Glue the Santa Claus whose belly is empty on another Santa Claus with white chocolate. Place sugar decorations and grated coconut in Santa's belly. Close with the 3rd Santa Claus(glued with white chocolate). Pipe the details with the 3 chocolates then place in the fridge. Serve and enjoy!