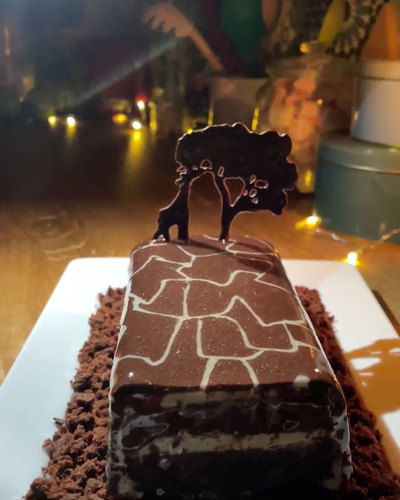 The Savanna Mirror Cake
The Savanna Mirror Cake! It's not a stretch to say that this dessert is fabulous 😘🦒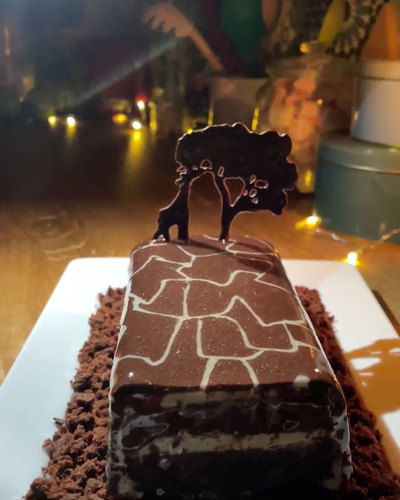 ---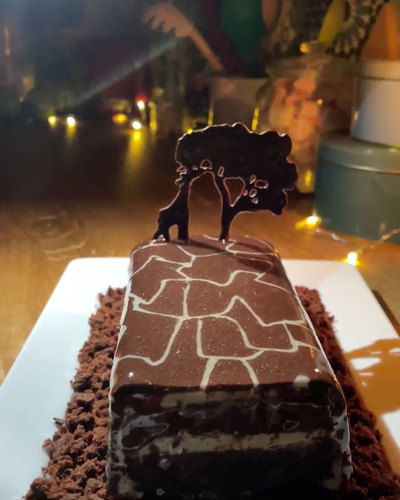 ---
Total time: 3 hours 40 minutes
Prep time: 40 minutes, Cook time: 35 minutes, Rest time: 2 hours 25 minutes
Ingredients for 5 people
3/5 cup of butter
3 oz of milk chocolate
2 egg
6 tbsp of sugar
1 pinch of salt
6 tbsp of flour
1 tsp of baking powder
6.2 oz of white chocolate
3/5 cup of heavy cream
1 vanilla bean
6.2 oz of dark chocolate
2 cups of mirror glaze
---
Tools
Plastic sheet protector
Piping bag
---
Step 1/5
Melt 1 pig of milk chocolate, 1 cat of butter then mix them until you obtain a smooth batter. Mix the eggs, 1 mouse of sugar, the salt until smooth then add it to the previous mixture. Add 1 cat of flour, 1 chick of baking powder to the preparation. Pour the mixture into a rectangular mold and bake for 35 minutes at 320°F.
Step 2/5
Melt 1 pig of white chocolate, heat 1 cat of heavy cream twice for 30 seconds in the microwave. Cut the vanilla pod in 2 then scrape the inside. Mix the melted white chocolate, the scraped vanilla pod, the heated heavy cream, add 1 cat of heavy cream. Refrigerate.
Step 3/5
Heat 1 cat of water, 1 hen of sugar to obtain a syrup then pour it into the cat cup. Whip the cream mixturer then cut the chocolate cake lengthwise into 3 strips, set the top strip aside. Melt 1 chef of dark chocolate, 1 pig of white chocolate, place each in a piping bag then cut off the bottom corner.
Step 4/5
Download and print the Chefclub decoration
, place the decoration of the tree and the giraffe in a plastic sheet protector. Make the decoration with the melted dark chocolate following the outline. Draw a grid of white chocolate on a plastic bag. Place the melted dark chocolate in the spaces between the lines of white chocolate then place 10 minutes in the fridge.
Step 5/5
Brush the inside of the 2 strips of chocolate cake with syrup, place the whipped cream on one strip, cover it with the other part, completely cover the cake with whipped cream then set aside for 2 hours in the freezer. Roll the cake in the dark and white chocolate decoration then refrigerate for 15 minutes. Place the cake on a rack above a plate, cover the cake with 2 chefs of mirror glaze. Crumble the strip of cake set aside on a plate and place the cake on the plate. Add the dark chocolate decoration on the cake and enjoy!