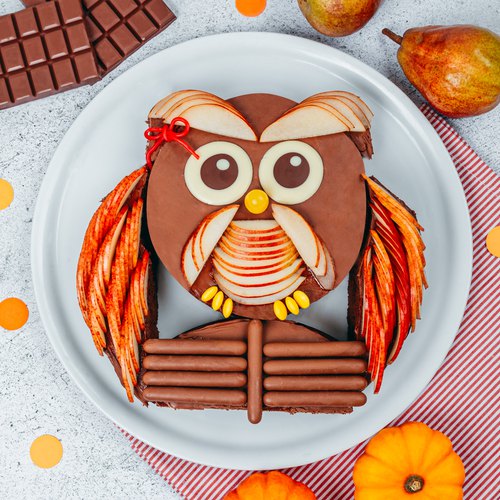 Chocolate Owl Cake
Chocolate Owl Cake! This dessert is a hoot 🦉🎂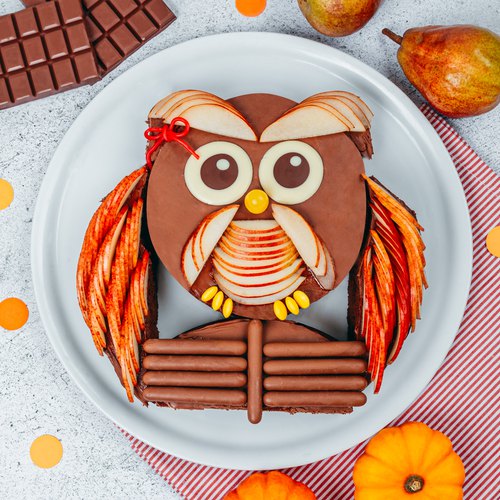 ---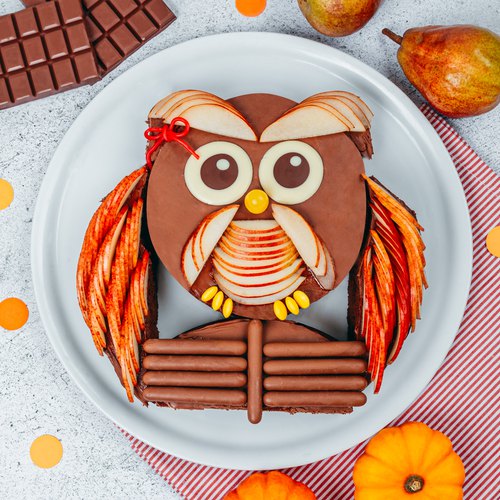 ---
Total time: 2 hours 35 minutes
Prep time: 2 hours , Cook time: 35 minutes
Ingredients for 8 people
21 oz of dark chocolate
1.2 cups of vegetable oil
6 egg
1 1/2 cups of sugar
1.2 cups of milk
3.2 cups of flour
4 tsp of baking powder
9 oz of milk chocolate
1/2 cup of heavy cream
1/2 oz of white chocolate
6 m&m's
4 pears
1 banana candy
10 ladyfingers
---
Step 1/4
Mix the dark chocolate, vegrable oil, eggs, sugar, milk, flour and baking powder. Pour in a cake pan and bake at 320ºF for 35 min. Allow to cool and unmold.
Step 2/4
Melt the milk chocolate and mix with the heavy cream. Coat the cake with the frosting.
Step 3/4
Cut the cake and create the shape of an owl. Frost the entire cake. Arrange the ladyfingers to decorate. Create the eyes with the different melted chocolates.
Step 4/4
Cut the pears into thin slices and place on the owl's wings. Place the banana candy to create the beak. Add the eyes. Serve and enjoy!