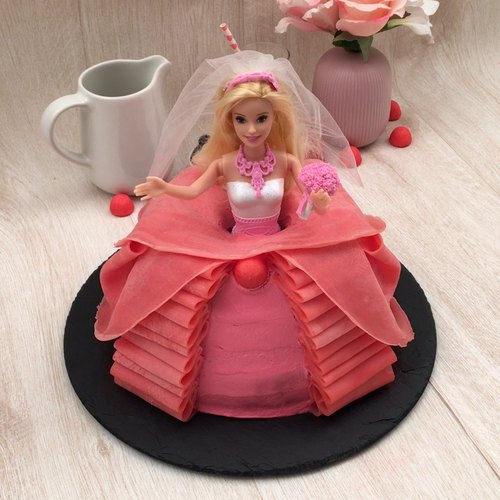 Princess cake
Such a beautiful and delicious dress! ;)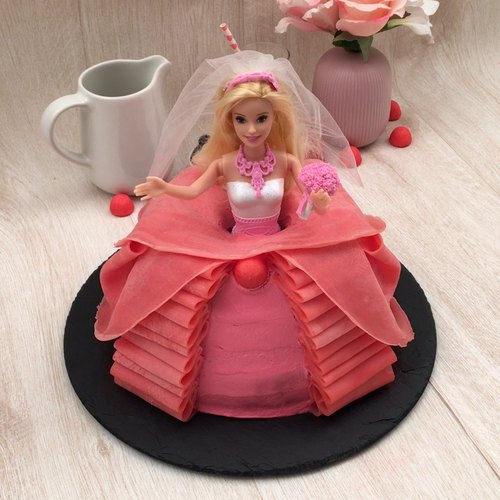 ---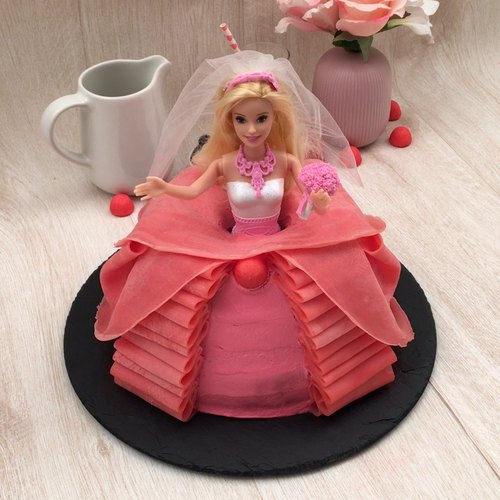 ---
Ingredients for 6 people
3 cups of flour
9 eggs
1 1/3 cups of sugar
1 tbsp of vegetable oil
1 1/4 cups of milk
2 cups of mascarpone
1 1/4 cups of heavy cream
10 strawberries
1 marshmallow straberry
pink food coloring
---
Tools
Electric hand mixer
Barbie ®
Metal mixing bowl
---
Step 1/4
Mix 1 2/3 cups of flour, 3 eggs, 2 1/3 tbsp of sugar, oil and then gradually add the milk while stirring to make a crepe batter. Add pink food coloring. Cook 4 crepes, 3 minutes on each side.
Step 2/4
Beat the remaining eggs and 1 cup sugar in the metal mixing bowl. Stir in the remaining flour and bake at 350 °F for 40 minutes. Add pink food coloring to the mascarpone and whip it with the remaining sugar and the heavy cream.
Step 3/4
Remove the cake from the oven, turn it out of the mold and cut it in 3 horizontally. Spread whipped cream on the bottom part and place 4 half strawberries on top, then cover with the second part of the cake. Top with the whipped cream and the remaining strawberries and close the cake. Ice the whole cake with whipped cream.
Step 4/4
Cut 4 strips 1.5" wide from the crepes, fold them into an accordion shape, and place them in 2 strips on the front of the cake. Form veils around the dress with 2 half crepes and then cover the back of the dress with a last crepe. Place the Barbie ® in the cake, decorate the front of the dress with the marshmallow strawberry, and enjoy!