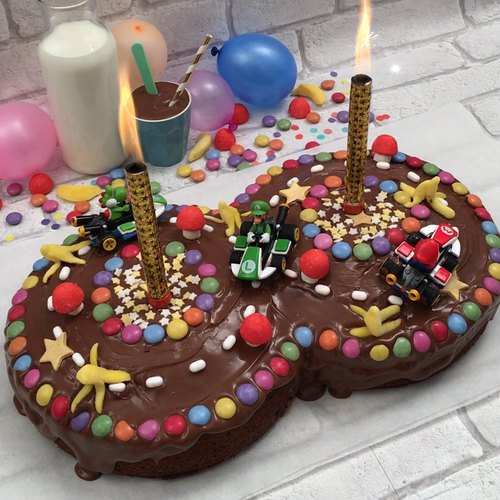 Mario-Kart Cake
Fun to make with kids, try to avoid the bananas! 🍌🏎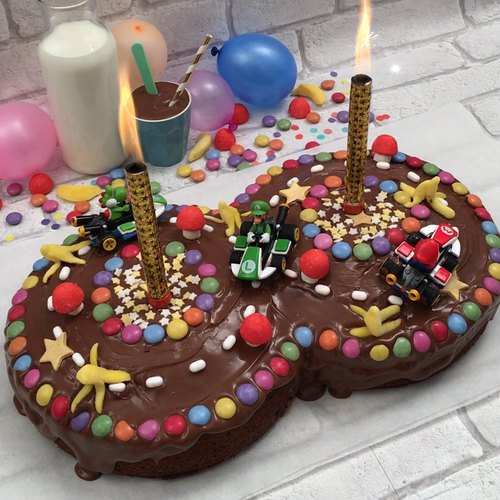 ---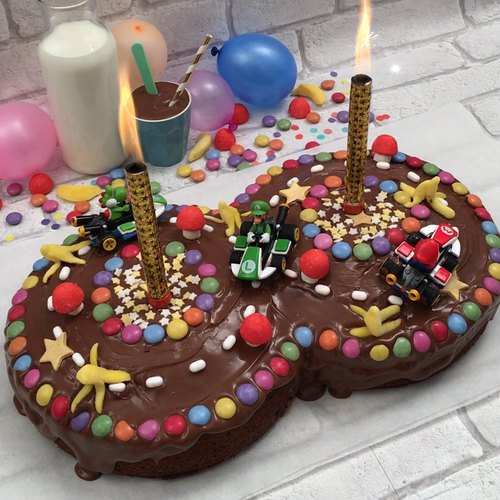 ---
Ingredients for 10 people
3 cups of dark chocolate
1 cup of butter
14 eggs
2 cups of sugar
3 cups of flour
1 jar of chocolate hazelnut spread ®
5 strawberry candies
5 mini-marshmallows
5 banana candies
4 candy stars
m&m's ®
tic tac ®
sprinkles
---
Tools
Electric hand mixer
Springform pan
Fountain candles
---
Step 1/3
Melt 1 cat and 1 mouse of dark chocolate with 1 chef of butter in the microwave for 2 minutes. Mix them together well. Separate the yolks and whites of 7 eggs. Add 1 pig and 1 cat of sugar to the yolks and beat with the electric hand mixer until light in color. Beat the whites until stiff. Add the melted chocolate to the yolks and mix in 2 pigs of flour. Gently fold the egg whites into the mixture and pour the batter into the springform pan. Bake for 35 minutes at 350 °F. Repeat to make a second identical chocolate cake.
Step 2/3
Cut off one edge of each cake to make it straight and stick them together to form the shape of an 8. Cover the cakes with chocolate hazelnut spread ®. Arrange M&M's ® on the outer edges of the cakes then form a circle of M&M's ® in the center of each cake. Place Tic-Tacs ® between the 2 rows of M&M ® to make the race track.
Step 3/3
Stick a mini marshmallow to the bottom of each strawberry candy to make mushrooms and arrange them on the track. Cut half of each banana candy in 4 and place them on the track. Place the candy stars in the center of the 2 cakes and decorate with sprinkles. Stick the fountain candles in the middle. Light and enjoy!