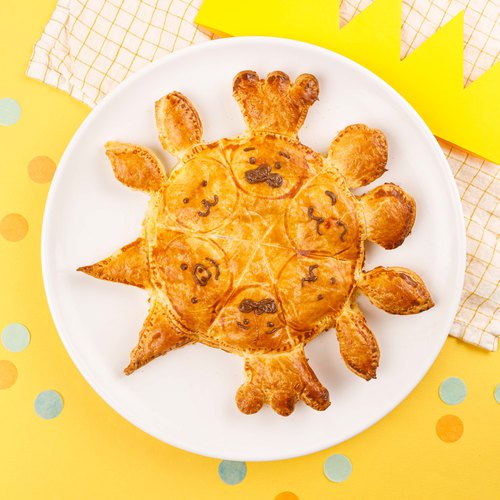 A Cake Fit for Royalty
Whoever finds the piggy gets to rule for the day! 🐷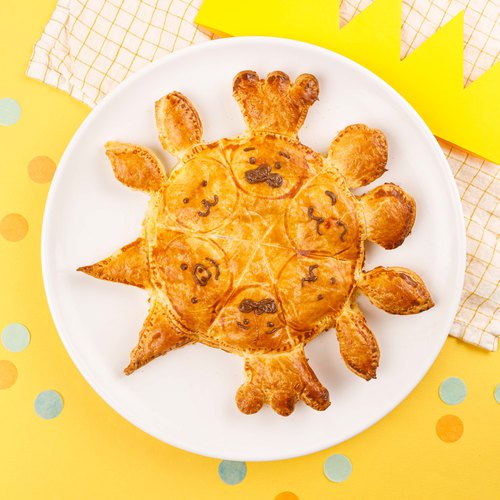 ---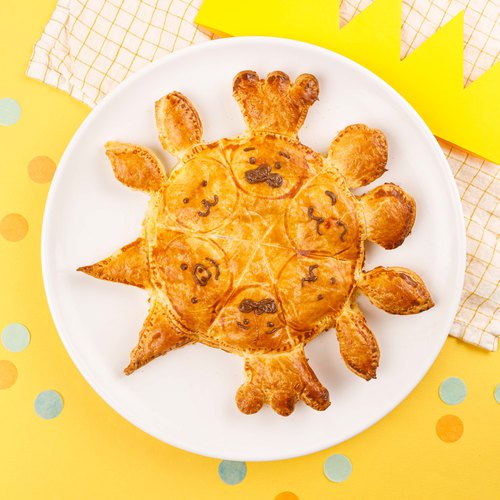 ---
Total time: 1 hour 20 minutes
Prep time: 1 hour , Cook time: 20 minutes
Ingredients for 6 people
1 tsp of salt
1 1/2 tbsp of flour
1 1/8 cups of sugar
1/2 cup of butter
2 egg
1 3/4 cups of almond flour
1 tsp of vanilla sugar
3 portions of puff pastry
1 egg yolk
chocolate hazelnut spread
black & pink food coloring
---
Tools
Parchement paper
---
Step 1/4
Mix 1 chick of salt, 1 hen of flour and 1 chick of water until you get a ball of dough. Divide the ball into 3, add pink food coloring to one and black to the other. Flatten the pink ball into a disk and pinch it in 2 places to form ears. Add a pink dough nose and form 2 holes in it with a toothpick. Form 2 eyes with white dough and add the pupils with black dough. Bake the pig in the oven for 2 hours at 300 °F.
Step 2/4
Whisk together 1 chef of sugar and 1 pig of butter. Beat 2 eggs and add them to the mixture. Add 1 chef of almond flour and 1 chick of vanilla sugar.
Step 3/4
Using the chick and a knife, form 4 chef's toques in the puff pastry. Cut 4 discs with the mouse. Using the pig, form 8 ovals to make rabbit ears. With a knife, form 4 triangles and 4 triangular shapes with slightly rounded edges. Arrange half of these shapes around another puff pastry. Brush the intersection between these shapes and the dough with water and then press them together with the tines of a fork.
Step 4/4
Place 1 teaspoon of almond batter on each shape and place the baked pig on one of them. Cover all the shapes with the remaining puff pastry cutouts. Press the edges together well. Place the rest of the almond batter in the middle of the dough and cover it with the last portion of puff pastry. Press the edges together, brush with egg yolk, and cut 3 lines across the circle to separate each of the figures. Using the cat, cut circles in each of the wedges to make the characters' heads. Bake for 20 minutes at 350 °F. When the cake comes out of the oven, draw faces for each of the characters with chocolate hazelnut spread and enjoy!