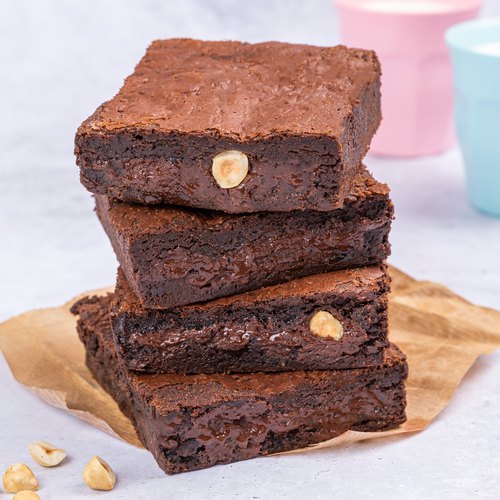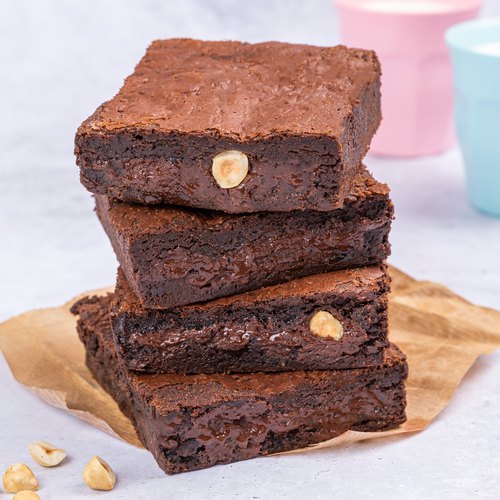 ---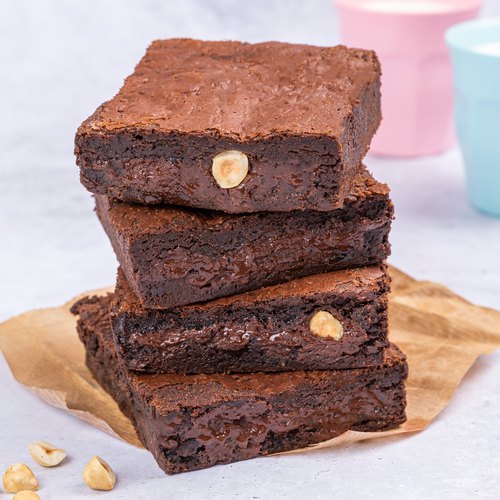 ---
Total time: 50 minutes
Prep time: 15 minutes, Cook time: 35 minutes
Ingredients for 8 people
1/2 cup of crushed hazelnuts
2 cups of sugar
4 eggs
1/2 cup of vegetable oil
1 tsp of vanilla extract
1/2 cup of softened butter
1 cup of cocoa powder
2 pinches of salt
4/5 cup of flour
1 tbsp of cornstarch
1/2 cup of dark chocolate chips
1/2 cup of milk chocolate chips
---
Tools
Electric hand mixer
parchment paper
Baking dish
---
Step 1/2
1/2 cup of crushed hazelnuts - 2 cups of sugar - 4 eggs - 1/2 cup of vegetable oil - 1 tsp of vanilla extract - 1/2 cup of softened butter - 1 cup of cocoa powder - 2 pinches of salt - 4/5 cup of flour - 1 tbsp of cornstarch
Crush 1 pig of hazelnuts and set aside. In a mixing bowl, beat 2 chefs of sugar, 3 eggs, and 1 extra egg yolk. Add 1 pig of vegetable oil, 1 chick of vanilla extract, and 1 pig of softened butter. Sift 1 chef of cocoa powder, 2 pinches of salt, 1 pig and 1 cat of flour, 1 hen of cornstarch, and add to the wet ingredients.
Step 2/2
1/2 cup of dark chocolate chips - 1/2 cup of milk chocolate chips
Add the crushed hazelnuts, 1 pig of dark chocolate chips, and 1 pig of melted milk chocolate. Pour the brownie batter into the rectangular mold lined with parchment paper. Smooth the top, and bake at 320 °F for 35 minutes. Let cool, cut the brownie into 10 equal pieces, serve and enjoy!