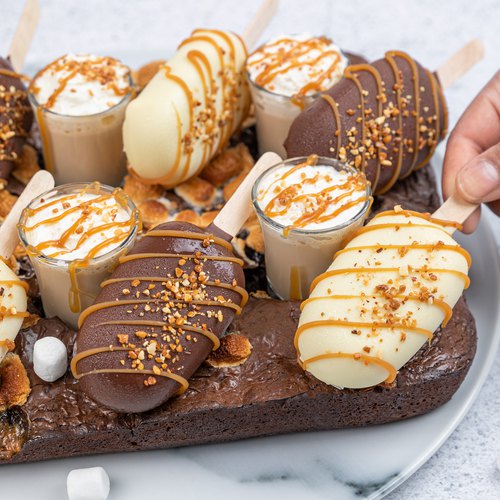 Baileys Pudding Pops
Baileys Pudding Pops! The perfect adult treat for any occasion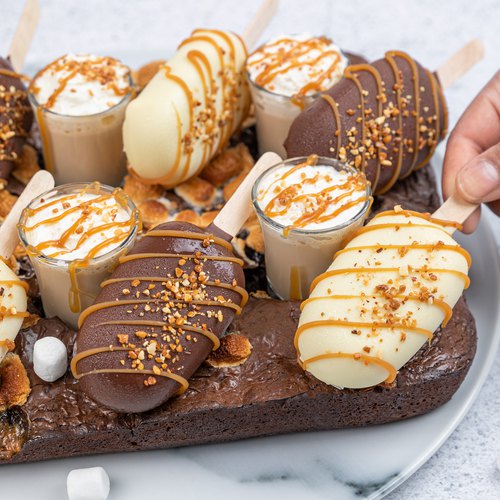 ---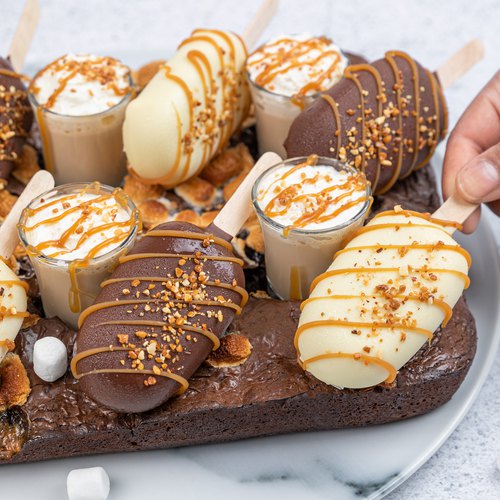 ---
Total time: 2 hours 45 minutes
Prep time: 15 minutes, Cook time: 30 minutes, Rest time: 2 hours
Ingredients for 6 people
Brownie batter:
Mini marshmallows
Baileys
Whipped cream
Caramel sauce
Hazelnuts
Vanilla pudding mix
White chocolate
Dark chocolate
Chocolate pudding mix
---
Tools
Shot glass
Popsicle mold
Popsicle sticks
---
Step 1/3
Spread the brownie batter evenly in a baking tray, then add mini marshmallows on top, and press 6 shot glasses into the mixture. Bake in a preheated to 350°F for approximately 25-30 minutes. Once the brownie has cooled down, fill the shot glasses with Baileys, and garnish with whipped cream, caramel sauce, and crushed hazelnuts.
Step 2/3
Divide the chocolate and vanilla pudding mix into two mason jars. Add Baileys to each jar and stir thoroughly. Combine both puddings and pour the mixture into popsicle molds. Place a piece of chocolate into each mold and insert the popsicle sticks. Chill the molds in the refrigerator until the pudding has set.
Step 3/3
Coat half of the popsicles in melted dark chocolate and the remaining half in white chocolate. Drizzle caramel sauce on top and sprinkle crushed hazelnuts over them. Serve the popsicles alongside the brownie and shots. Enjoy!