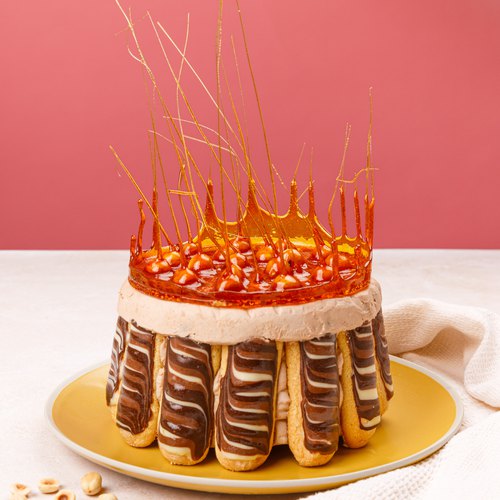 Hazelnut Crown Cake
Hazelnut Crown Cake! A grand cake with divine chocolate mousse 😍👑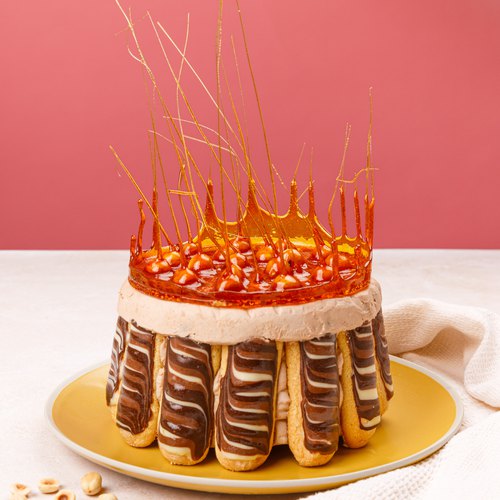 ---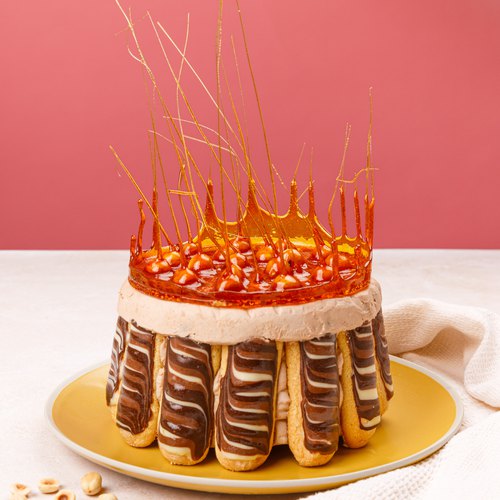 ---
Total time: 1 hour 35 minutes
Prep time: 25 minutes, Cook time: 10 minutes, Rest time: 1 hour
Ingredients for 4 people
18 ladyfingers
3 1/2 oz of milk chocolate
3 1/2 oz of dark chocolate
3 1/2 oz of white chocolate
3 1/2 oz of hazelnuts
7 oz of mascarpone
1.7 cups of heavy cream
0.4 cup of chocolate hazelnut spread
2 cups of sugar
---
Tools
Ziplock bag
parchment paper
Cardboard
---
Step 1/5
Cut the cardboard sheets in 3 lengthwise to obtain strips. Arrange the ladyfingers in pairs, side by side and lay the strips of paper on either side to be able to make the decoration in the middle without overflowing. Melt the three chocolates and pour them into Ziplock bags, then cut a lower corner to create piping bags. Draw chocolate zigzags on the ladyfingers, alternating the 3 chocolates. Remove the strips of paper by sliding them along the cookies to avoid smudging. Repeat for 10 ladyfingers and place them in the fridge.
Step 2/5
Whip the mascarpone with the heavy cream. Add the spread and gently fold it into the mixture. Arrange the hazelnuts on a baking sheet and bake for 10 minutes at 340°F.
Step 3/5
Cut a circle of parchment paper, place it at the bottom of the mold, place 1 layer of whipped cream at the bottom of the charlotte muld and place the chocolate ladyfingers on the sides of the mold. Add another layer of whipped cream, sprinkle with crushed hazelnuts, cover with whipped cream, line with plain ladyfingers and repeat these different layers. Place in the freezer for 1 hour.
Step 4/5
Place 1 circle of parchment paper in the springform pan. Cut 1 strip of baking paper to line the edges.
Step 5/5
Bring the sugar to the boil with ¾ cupl of water to obtain a caramel. When it has nicely colored, plunge the bottom of the pan into a bowl of cold water. Fill the bottom of the springform pan with caramel, place a few whole hazelnuts and allow to harden. Add a new layer of caramel and spread well to cover all the hazelnuts. Turn the mold upside down and hold it up to spin the caramel and obtain peaks. Cut the excess caramel, unmold the cake and the decoration. Place the caramel peaks on the cake. Remove the circle of caramel to cut into pieces, then serve and enjoy!