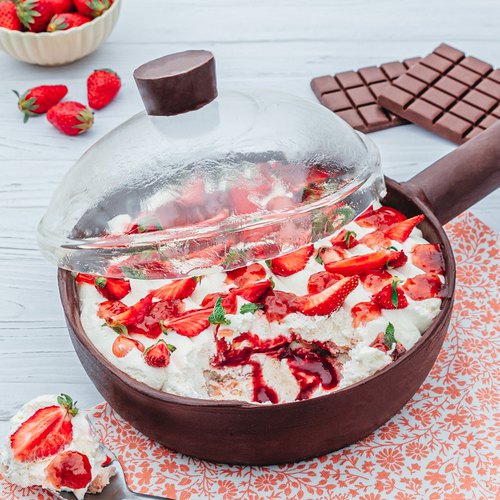 The Strawberry Pan
The Strawberry Pan! Everything is edible 🤩🍓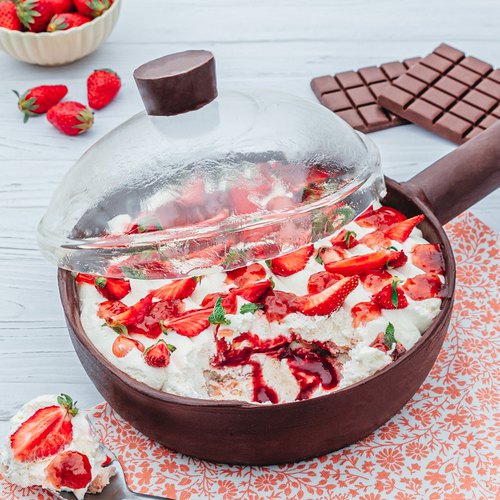 ---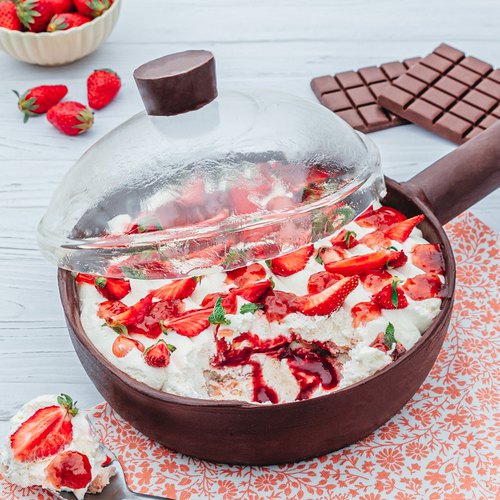 ---
Total time: 1 hour 10 minutes
Prep time: 40 minutes, Rest time: 30 minutes
Ingredients for 5 people
9 oz of dark chocolate
1 cup of heavy cream
2 tbsp of powdered sugar
9 oz of mascarpone
12 ladyfingers
3 containers of strawberries
0.3 cup of strawberry coulis
Mint
3/5 cup of sugar
---
Tools
parchment paper
Piping bag
Cling wrap
---
Step 1/3
Melt the dark chocolate, pour it into a saucepan, spread it and pour the excess into a glass. Pour the melted dark chocolate onto a square of parchment paper and spread it. Wrap the parchment paper around the handle of the saucepan and set aside for 30 minutes in the freezer.
Step 2/3
Whip the heavy cream, powdered sugar and mascarpone together. Place in a piping bag. Cut the ladyfingers into 3 parts and the strawberries into pieces. Unmold the chocolate shell from the pan and pipe the whipped cream. Place the ladyfingers, pour the strawberry coulis, place the strawberries and cover with whipped cream. Arrange the rest of the strawberries and the mint leaves on the whipped cream. Pour dots of strawberry coulis. Unmold the chocolate from the handle of the saucepan. Dip one end of the chocolate handle in the melted chocolate and glue it to the chocolate shell.
Step 3/3
Cover a container with cling wrap. Heat the sugar in a saucepan, pour the melted sugar over the cling wrap, press the cling wrap with a springform pan to form a bubble of sugar, unmold it and place it on a plate. Unmold the chocolate and place it on the sugar bubble to form a lid. Place it on the filled chocolate shell and enjoy!