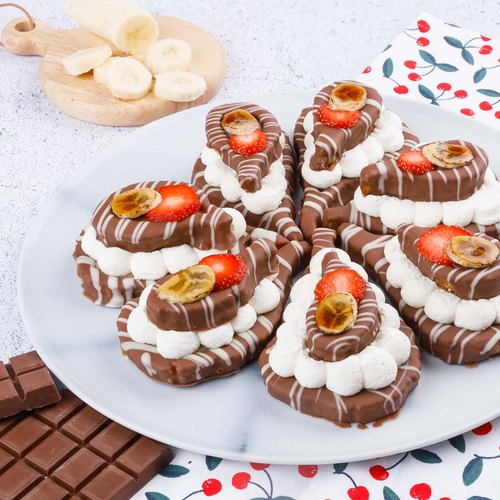 French Toast Chocolate Flower
French Toast Chocolate Flower! These petals are delicious 🍫🌺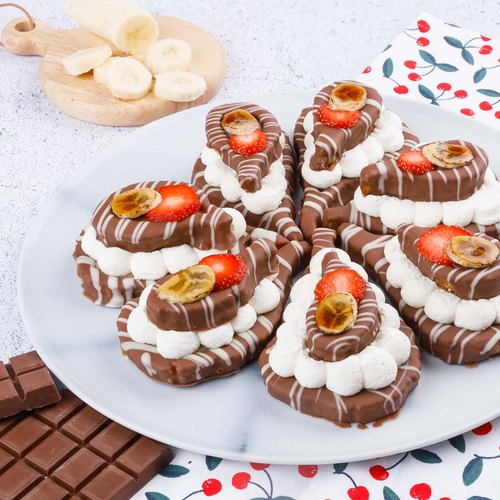 ---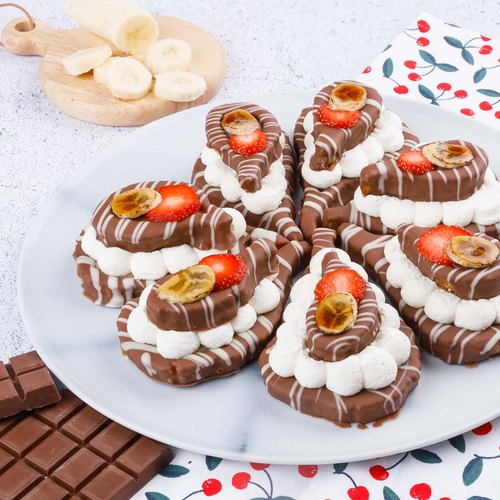 ---
Total time: 2 hours 10 minutes
Prep time: 1 hour , Cook time: 10 minutes, Rest time: 1 hour
Ingredients for 6 people
7 slices of bread
3 egg
1/2 cup of milk
0.9 cup of heavy cream
4 tbsp of brown sugar
2 tbsp of sugar
7 oz of milk chocolate
2 oz of white chocolate
2 bananas
4 strawberries
2 oz of mascarpone
4 tsp of powdered sugar
---
Tools
Ziplock bag
parchment paper
Piping bag
---
Step 1/4
Break 3 eggs into a container, beat them then add the milk and ½ cup cream to obtain a French mixture. Cut a strip in a slice of bread, then rotate the slice to get three attached strips and remove the middle of the slice. Press the edges of the sandwich bread strip, create a pear shape before securing the ends with a clothespin and dipping it in the French toast mix. Repeat the process to obtain 6 large pear-shaped sandwich loaves and place them on the plancha. Use the middle of the sandwich loaves to create 6 petals of the same shape, skewer 3 small petals per skewer before dipping them in the French toast preparation and placing them on the plancha.
Step 2/4
Add 1 square of butter to the center of each pear-shaped French toast and cover with sugar. Melt the milk chocolate, dip the bread inside to cover it with the melted chocolate and place it on the grill. Melt the white chocolate, pour it into the Ziplock bag, then cut off the end and pour lines of chocolate on the French toast. Repeat the process for all the French toast before placing them on a baking sheet covered with parchment paper. Pour the remaining melted milk chocolate inside the French toast petals. Refrigerate for 1 hour.
Step 3/4
Peel, cut the bananas and keep 6 slices of bananas. Place the mashed bananas in a piping bag, then cut off the end and fill the inside of the petals. Whip the mascarpone, remaining cream and powdered sugar into a whipped cream, then place it in a piping bag, cut off the end and pipe dots of whipped cream on the edges and on the mashed bananas.
Step 4/4
Wash and cut the strawberries into slices, place a piece of strawberry in the center of the whipped cream, then cover everything with a chocolate petal and place a slice of strawberry. Place the strawberry slices in a saucepan with a spoon of sugar to caramelize them and place on each petal. Serve and enjoy!