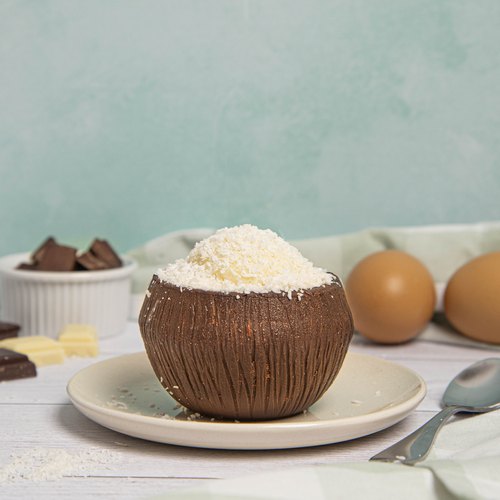 Choco-coco Nuts
Choco-coco Nuts! You'll go loco for all this coco 😋🥥🍫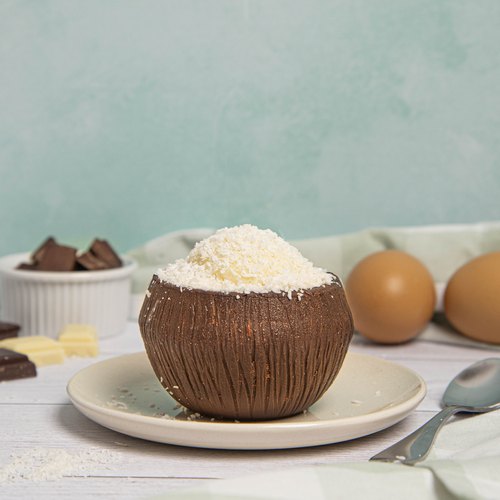 ---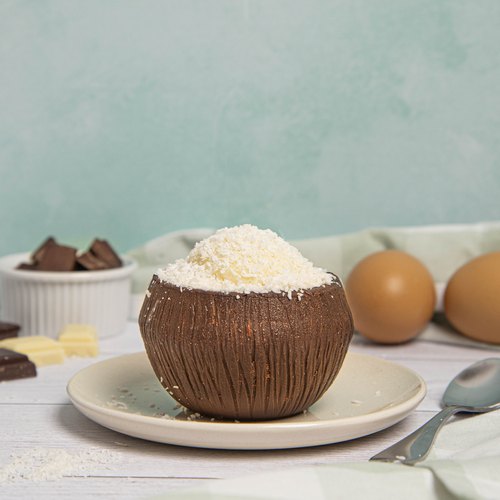 ---
Total time: 1 hour 3 minutes
Prep time: 30 minutes, Cook time: 33 minutes
Ingredients for 3 people
18 oz of dark chocolate
7 oz of white chocolate
2 tbsp of butter
1 egg
2 tbsp of sugar
2 1/2 tbsp of flour
3/5 cup of heavy cream
1 1/4 tbsp of powdered sugar
3 1/2 tbsp of mascarpone
1 pint of chefclub coconut ice cream
9 tbsp of shredded coconut
---
Tools
Ice cream scoop
parchment paper
Ziplock bag
---
Step 1/4
Melt 9 oz of dark chocolate and pour into bowls. Swirl the bowls to coat the edges with chocolate. Pour the excess chocolate into the remaining bowls and place the 6 bowls upside down on a baking rack. Place in the fridge for 30 minutes. Melt the white chocolate and pour into the 3 cooled bowls, then swirl to distribute the chocolate around the edges and pour the excess into the remaining bowls. Turn the bowls over and refrigerate for 30 minutes.
Step 2/4
Unmold the bowls to obtain chocolate shells. Heat a saucepan then turn it over to use the bottom as a griddle. Glue the 2 shells, letting them melt slightly on the hot pan. Repeat to have 3 chocolate spheres. Heat the bottoms of the spheres on the hot pan until they melt and the white chocolate is visible.
Step 3/4
Lightly grate the edges of the spheres to give a coconut shell appearance. Save the chocolate shavings for decoration. Melt the remaining dark chocolate and add the melted butter. Stir, add the egg, sugar and flour until you get a smooth paste. Place the preparation for 3 minutes in the microwave.
Step 4/4
Whip the cream with the sugar and mascarpone. Place in the ziplock bag and cut a lower corner to make a piping bag. Crumble the cake and place the pieces in the coconut shells. Spread a sheet of parhment paper on the work surface and sprinkle the grated coconu. Roll 1 scoop of ice cream on the baking paper to coat it with coconut, then place it on top of the cakes. Sprinkle with the remaining coconut and chocolate shavings. Serve and enjoy!