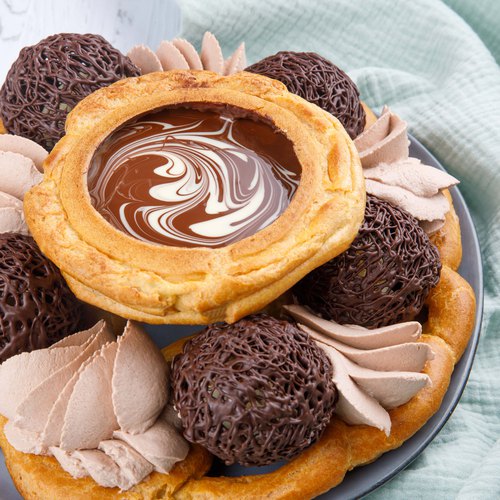 Ice Cream Puff Crown
Ice Cream Puff Crown! Melt in your mouth deliciousness 🍫😚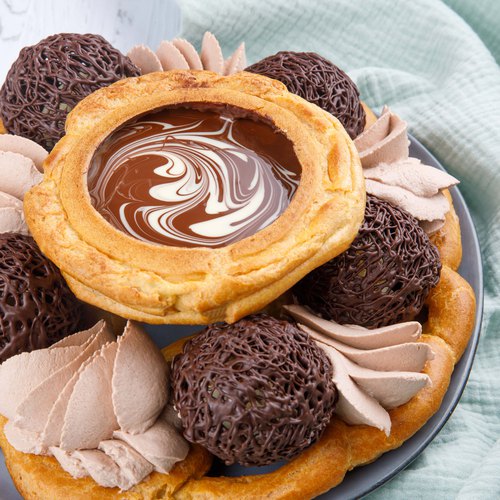 ---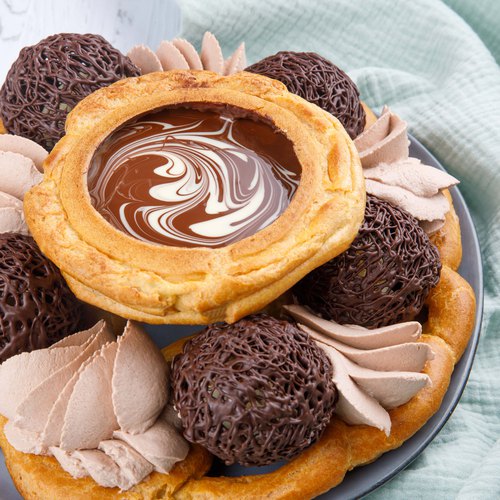 ---
Total time: 1 hour 15 minutes
Prep time: 45 minutes, Cook time: 30 minutes
Ingredients for 5 people
6 tbsp of butter
1 cup of flour
1 cup of water
4 eggs
1 pinch of salt
1 tsp of sugar
2 cups of dark chocolate
1 cup of vanilla ice cream
Hazelnut praline
1 tbsp of white chocolate
1 cup of heavy whipping cream
1/2 cup of mascarpone
2 tbsp of powdered sugar
2 tbsp of cocoa powder
---
Tools
Piping bag
---
Step 1/4
Heat the water, sugar, salt and butter in a saucepan and bring to a boil. Add the flour. Remove from heat and allow to cool slightly. Add the eggs one by one then mix until well blended. Place the dough in a piping bag.
Step 2/4
Pipe the dough around an upturned cup. Dip the end of a glass in the flour then form a circle with several circles of flour on a baking sheet. Pipe the rest of the dough in a spiral following the circles of flour. Bake the dome and the dough spiral for 30 minutes at 350°F.
Step 3/4
Melt the dark chocolate in a double boiler. Form a cone with parchment paper and pour the chocolate inside. Cover the top of a ladle by forming lines of melted dark chocolate. Immerse the ladle in 1 liter of cold water to let the chocolate freeze. Unmold the chocolate shell. Repeat the process 9 times. Melt the white chocolate and set aside. Whip the mascarpone, heavy whipping cream, powdered sugar and cocoa powder into a whipped cream. Place the whipped cream in a piping bag.
Step 4/4
Place 5 chocolate shells in the spaces of the puff pastry spiral. Form quenelles of Chefclub vanilla ice cream using 2 tablespoons. Place them into the chocolate shells. Sprinkle the ice cream with the hazelnut praline. Pipe the chocolate whipped cream between the shells. Heat the edge of the 5 other chocolate shells then weld them onto the filled chocolate shells. Brush the inside of the puff pastry dome with melted dark chocolate then allow to set. Place the puff pastry dome upside down. Pour the rest of the dark chocolate in the center followed by the white chocolate. Mix the chocolates together. Serve and enjoy!